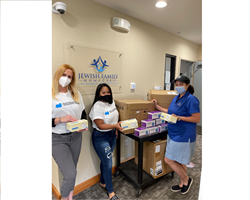 "When we saw the impact that JFHC was making among seniors in the community, we knew right away that we wanted to support their efforts." —Mario Cordon, Chief Marketing Officer at DiscountMugs.com
MIAMI (PRWEB) February 16, 2021
DiscountMugs.com has announced that it has donated 10,000 3-ply protective face masks to Jewish Family Home Care, a nonprofit in Broward County that provides in-home caregiving services to the elderly.
As the pandemic continues into the new year, many seniors in Florida still find themselves forced to stay home despite ongoing vaccine rollouts. After previously donating masks to low-income seniors in need, DiscountMugs.com wanted to provide PPE to the workers that would be going into homes of seniors and looking after them. As one of the largest home care agencies in South Florida, Jewish Family Home Care was the perfect fit.
"We are always searching for ways we can give back to the community, especially those most vulnerable," said Mario Cordon, Chief Marketing Officer at DiscountMugs.com. "When we saw the impact that JFHC was making among seniors in the community, we knew right away that we wanted to support their efforts."
The donation marks the latest initiative by DiscountMugs to support community efforts and small business development in the South Florida area.
In April 2020, the company donated 11,000 surgical masks to low-income seniors in South Florida that require routine medical care. DiscountMugs followed up this donation in September by gifting 15,000 face masks to students and teachers in the Miami-Dade County Public Schools system. The company also created a small business assistance program last July to award custom promotional merchandise to South Florida small businessowners impacted by the pandemic.
More About DiscountMugs.com
Based in Medley, Florida, DiscountMugs.com is one of the largest online providers of promotional products in the United States. The company's proprietary online design lab allows customers to easily design their own custom promotional products from mugs to t-shirts, hats and many more categories, and have them delivered in as little as one week.
DiscountMugs.com's vertically integrated supply chain is unique in the industry, allowing it to side-step intermediaries and pass along savings to customers. Contact DiscountMugs.com today or call 800-579-7152 to learn more about how custom promotional merchandise can help your business.
More About Jewish Family Home Care
Jewish Family Home Care and its subsidiaries provide a range of reliable and compassionate home care services for seniors, including companionship, personal care, light housekeeping, Alzheimer's care, meal preparation, and respite for family caregivers.
Though one of Broward County's largest home care agencies, each JFHC caregiver operates with the hands-on touch of a family-managed, not-for-profit organization. For more information, call 954-908-5677 or visit https://www.jfcares.org/ to learn more about the personalized home care provider.