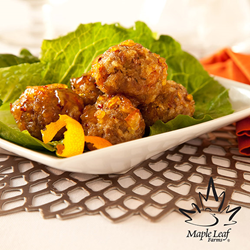 Our ready-made appetizers are a great way to introduce duck.
LEESBURG, IND. (PRWEB) June 21, 2017
Maple Leaf Farms, America's leading producer of innovative duck products, invites attendees at the Fancy Food Show to taste just how delicious duck can be. Stop by booth 956 during the June 25-27, 2017, event in New York City to try these delectable duck products from the company's "IntroDUCKtions" line of duck appetizers: Duck Quesadillas with Cheese, Duck Bacon and Sweet Corn Wontons, and Duck Meatballs.
Visitors to the specialty food-and-beverage event will be the first to taste the new product concept of fully cooked Duck Meatballs. Made with ground duck breast meat and seasonings, the meatballs are ready to use in a variety of menu applications.
"Consumers are looking for new and unique protein options," said Cindy Turk, director of marketing at Maple Leaf Farms. "Our ready-made appetizers are a great way to introduce duck."
Duck is leaner and has less saturated fats than other meats. Its flavor is more similar to steak than to chicken or turkey, and is easy to incorporate into a wide range of flavor profiles and cuisines.
"Consumers are delighted by the delicious, mild flavor of duck and are surprised to find out how healthy it is," said Turk.
In addition to its duck appetizers, Maple Leaf Farms supplies a full line of ready-to-cook and fully cooked duck products to retail and foodservice markets.
Founded in 1958, Maple Leaf Farms is a fourth generation family-owned company. The company supplies retail and foodservice markets throughout the world with innovative, value-added duck products. For more information, contact Maple Leaf Farms at 1-800-348-2812 or visit http://www.mapleleaffarms.com.