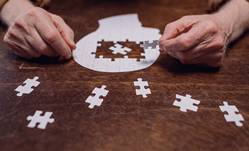 JUPITER, Fla. (PRWEB) November 30, 2021
The popular award-winning series, Advancements with Ted Danson, will explore how technology is empowering mental health in an upcoming episode, scheduled to broadcast Spring/2022.
In this segment, Advancements will explore the importance of mental health and how technology is being used to drive treatment. With a look at developments in teletherapy, viewers will learn about Kindbridge's specialized approach to mental health and will hear how telehealth is helping to reduce wait times and bring timely access to care."By leveraging telehealth technology, Kindbridge provides an environment to discuss mental health issues that may be harming them. Our aim is to provide all the resources that an individual needs to manage their mental health successfully under one roof with ease of access through mobile technology, so there is no confusion for an individual seeking assistance, and they get what they need in good time, ultimately avoiding additional trips to the ER or their GP unnecessarily," said Daniel Umfleet, Founder and CEO of Kindbridge.
In addition, spectators will see how clinically experienced therapists use their expertise to help patients set goals and achieve positive outcomes where and when it's convenient.
"With an average national wait time of 21 days, a lot of people struggle with receiving access to mental health care. The pandemic only exacerbated this, making the need for remote teletherapy more important than ever," said Tamara Philips, producer for the Advancements series.
About Kindbridge:
Kindbridge is the world's first teletherapy company focused specifically on the successful treatment of gamblers and gamers struggling with their mental health. It aims to build the largest network of mental health treatment providers in the U.S. who focus on high-quality specialist care for these communities and provide the research community with the necessary access to information in order to conduct large scale research on these subjects.
For more information, visit: http://www.kindbridge.com.
About Advancements and DMG Productions:
The Advancements series is an information-based educational show targeting recent advances across a number of industries and economies. Featuring state-of-the-art solutions and important issues facing today's consumers and business professionals, Advancements focuses on cutting-edge developments, and brings this information to the public with the vision to enlighten about how technology and innovation continue to transform our world.
Backed by experts in various fields, DMG Productions is dedicated to education and advancement, and to consistently producing commercial-free, educational programming on which both viewers and networks depend.
For more information, please visit http://www.AdvancementsTV.com or call 866-496-4065.