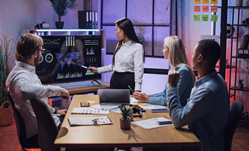 JUPITER, Fla. (PRWEB) November 18, 2022
An upcoming segment of Advancements with Ted Danson will focus on how developments in digital strategies are helping businesses better understand and accelerate in their market.
Advancements will explore how breakthroughs in digital technology are empowering organizations and helping some of the largest companies to succeed.
With a look at Fantasy Interactive (Fantasy) viewers will learn how the digital experience agency designs digital ecosystems, platforms, and products to improve the user-experience.
"At Fantasy, we believe in developing great partnerships with people who strive to go beyond the ordinary," said Firdosh Tangri, CEO, Fantasy.
The segment will also explore how Fantasy is helping businesses realize the unimagined, so they can better engage with users and make a real impact.
"From healthcare to television and streaming media industries, Fantasy connects every part of the puzzle to help businesses improve products and ideas," said Beth Swaney, producer for the Advancements series. "We look forward to exploring this on the show."
About Fantasy:
Fantasy is a human-centered product innovation team that ships premium products and ecosystems for the world's most pioneering companies. With offices in New York, San Francisco, and London, Fantasy stands behind its unique "Think Beyond" process to make an impact for some of the world's biggest brands, by realizing the unimagined to create digital experiences used by billions every day.
For more information, visit: http://www.fantasy.co.
About Advancements and DMG Productions:
Advancements is an information-based educational television series that explores recent developments taking place across several industries and economies. Shining a light on important issues and topics impacting society today, the series features the cutting-edge improvements, state-of-the-art technologies, and innovative solutions responsible for shaping, molding, and transforming our world.
Backed by experts in various fields, DMG Productions is dedicated to education and advancement, and to consistently producing commercial-free, educational programming for viewers and networks.
For more information, please visit http://www.AdvancementsTV.com or call 866-496-4065.