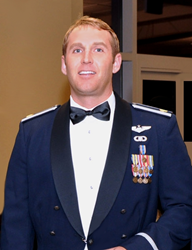 "I was once on the front lines defending our country. Now I want to support those that are doing the same for me," Rollors CEO Matt Butler.
DESTIN, Fla. (PRWEB) May 05, 2020
For Matt Butler, transitioning from military fatigues to a business suit didn't happen in a day, nor was it a seamless change. Today, Butler travels overseas to military installations to teach Boots to Business (B2B) classes to veterans and military spouses; Butler also travels worldwide to track veterans with their progress.
After spending 9 years growing the family-friendly backyard game Rollors into a nationally recognized brand, Butler officially retired last year to run his company and is now on a mission to help other service members pursue their passions through coaching and as an instructor with the Small Business Administration's Boots to Business program.
"When you're in the military you always have a plan of action, but when you decide to retire you enter a world of unknowns," explained Butler. "My goal through the Boots to Business program is to give veterans the tools and advice to create a brand new action plan that will make their transition to civilian life smoother."
Butler went through the entrepreneurial education and training program himself and came out with a personal action plan that has helped him achieve great business goals and opportunities.
Small Business Achievements:

Increase net sales by 192% in the last year alone
Build a nationally recognized brand (Rollors) that's available in major retailers, including REI, Dick's Sporting Goods, Wayfair, Walmart and Amazon among others
Employ veterans in the creation of Rollors
Earn a spot as a speaker at Veteran EDGE, the annual Institute for Veterans and Military Families (IVMF) conference
Donate over 50K to worth of Rollors games to various charities like: Marine Corps Toys for Tots, Wounded Warriors Project, Boys Scouts of America, Girl Scouts of America, Jared Allen's Homes for Wounded Warriors, USO, and many more
"I was once on the front lines defending our country," said Butler. "Now I want to support those that are doing the same for me."
Rollors is available for purchase at http://www.rollors.com, Amazon, Walmart, Wayfair, Dicks Sporting Goods, REI, Gander Outdoors, Camping World, Scheels All Sports, and other retailers nationwide.
Follow @rollors on Facebook, Twitter, YouTube, and Instagram.
About
Rollors is an addictively fun outdoor game for the whole family created by US Air Force veteran Matt Butler. Butler is committed to using his brand to help other service members find employment, and happily offers his experience and advice to other entrepreneurial veterans trying to get their brands off the ground.
Rollors has received numerous commendations including the Product of the Year Award from Family Review Center, Toy Tips and Trust Award, a Best Gear for 2014 product according to Men's Journal, and the Oppenheim Best Toy Award Gold Seal.
To coordinate an interview with Rollors, contact Brooke Daily at brooke@veteranpr.com.