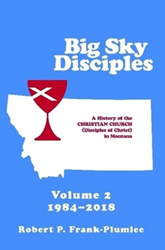 GREAT FALLS, Mont. (PRWEB) June 20, 2019
Robert P. Frank-Plumlee discusses the history of the Disciples of Christ Christian Church in Montana and chronicles the recent history of the church, its decline and its upcoming merger with the Northwest Regional Christian Church in his new book, "Big Sky Disciples Volume 2: A History of the Christian Church (Disciples of Christ) in Montana 1984–2018" (published by Lulu).
The book is a 34 year history of the Disciples of Christ in Montana, including state-wide ministry, development of the church's 43-acre mountain retreat center, activities in currently active Disciples congregations and the stories of closed or now unaffiliated congregations of Disciples in Montana. The print version has a detailed 5-page index to help with referencing information.
"(My book) will share with readers the pride and perseverance of a group of congregations in a state that is one of the largest geographically in America while being one of the smallest in population in America," Frank-Plumlee says.
"Big Sky Disciples Volume 2" is available for purchase at: https://www.amazon.com/Big-Sky-Disciples-Christian-1984-2018/dp/1483494012.
"Big Sky Disciples Volume 2"
By Robert P. Frank-Plumlee
Softcover | 6 x 9 in | 182 pages | ISBN 9781483494012
E-Book | 182 pages | ISBN 9781483494005
Available at Amazon and Barnes & Noble
About the Author
Robert P. "Bob" Frank-Plumlee is a retired Disciples of Christ minister living in the mountains near Lincoln, Montana, with his wife, Karen. They have been Montana residents since 1993. Frank-Plumlee graduated from Northwest Christian University in Oregon in 1966, and from Phillips Theological Seminary in Oklahoma in 1969. He went on to serve the church in Colorado, Oklahoma, Kansas, Georgia and Montana. Ordained in 1969, Frank-Plumlee has held church positions as an associate minister, senior minister, interim minister, new church planter, associate regional minister, and interim regional minister. Frank-Plumlee and his wife are both pilots, and own a Cessna 172. Besides flying, they enjoy hiking, canoeing, cross-country skiing, and world travel. They have seven children and many grandchildren and great-grandchildren.
Lulu empowers people of all ages to explore and express their interests, passions and expertise through books, photography and art. Since introducing self-publishing in 2002, Lulu has empowered creators in more than 225 countries and territories to produce nearly two million publications. Lulu Jr. allows children to become published authors, encouraging creativity, strengthening literacy and building self-esteem. Picture.com offers professional photography of collegiate and professional sports, memorable and historic events, fine art and home décor. For more information, please visit lulu.com.