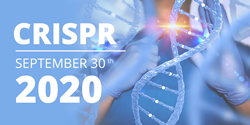 YORBA LINDA, Calif. (PRWEB) September 24, 2020
LabRoots, the leading scientific social networking website, offering premier, interactive virtual events and webinars, is pleased to announce its free, online CRISPR virtual event scheduled on September 30th, a one-day program exploring CRISPR Applications in Biomedicine and Agriculture, Development and Classification of CRISPR Systems, and CRISPR for Addressing the COVID-19 Pandemic.
As the discovery of CRISPR technology continues to revolutionize the fields of genome editing, therapeutics and diagnostics, CRISPR 2020 resumes the dialogue and collaboration from last year's event while bringing together biomedical research scholars, top scientists, industry and academia representatives in an interactive forum. Prominent speakers in the field will uncover topics including, an automated integrated multiple assay platform utilizing CRISPR-based transistors for CRISPR quality control applications, CRISPR/Cas9 as a tool to model and study cancer and identify challenges with two-body combination therapies in cancer, long-read sequencing revealing unforeseen CRISPR-Cas9 activity, measuring outcomes of CRISPR experiments and leveraging Cas9 for targeted sequencing, applying targeted long-read sequencing to assess an expanded repeat in C9orf72, strategies for delivering the Cas9 protein in vivo and therapeutic applications of gene editing, using CRISPR-Cas9 system for high-throughput analysis, and the mechanism of action of Remdesivir and what is important for its metabolism.
In addition to these informative lectures rounding out the agenda, Dr. Shondra Miller, Founding Director at the Center for Advanced Genome Engineering (CAGE), St. Jude Children's Research Hospital, will deliver a keynote address and speak to 'Functionalizing Genome Editing Techniques on a Broad Range of Cellular Targets,' discussing assays for evaluating on-target genome editing outcomes and best practices for creating custom genome edited cell lines and animals.
"At the Center for Advanced Genome Engineering, we create a broad range of genome edits both in terms of genomic loci and cell type," said Dr. Shondra Miller, Founding Director of the CAGE, St. Jude Children's Research Hospital. "At this conference, I will discuss how we use next generation sequencing to quickly and cost-effectively evaluate different genome editing strategies to efficiently create most types of custom edits, and I'm excited to share our pipeline and best practices via LabRoots' unique virtual platform."
"We remain excited to progress the field in CRISPR science and discoveries in CRISPR/Cas9 based therapies," said Greg Cruikshank, Chief Executive Officer of LabRoots. "LabRoots continues to deliver on its promise of showcasing the future of CRISPR and related gene editing technologies with the scientific community and sharing the necessary insights to accelerate the pace of biomedical science research."
Produced on LabRoots' inclusive platform with the capability to connect across all desktop and mobile devices, the virtual environment comprises a lobby, an auditorium (to hear about important developments shaping the future of CRISPR), a poster hall, an exhibit hall (highlighting the latest array of CRISPR related products and technologies), and a networking lounge providing a complete educational experience for all participants. LabRoots, an approved provider of continuing education programs in the clinical laboratory sciences by the ASCLS P.A.C.E. Program, offers attendees 1 Continuing Education Credit per presentation for a maximum of 30 credits.
To register for the event, click here. Use #LRcrispr to follow the conversation!
About LabRoots
LabRoots is the leading scientific social networking website, and primary source for scientific trending news and premier educational virtual events and webinars and more. Contributing to the advancement of science through content sharing capabilities, LabRoots is a powerful advocate in amplifying global networks and communities. Founded in 2008, LabRoots emphasizes digital innovation in scientific collaboration and learning. Offering more than articles and webcasts that go beyond the mundane and explore the latest discoveries in the world of science, LabRoots users can stay atop their field by gaining continuing education credits from a wide range of topics through their participation in the webinars and virtual events.