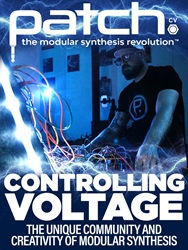 Patch CV defines "The Rebirth Of Wonder and Curiosity"
ASHEVILLE, N.C. (PRWEB) August 06, 2020
Now on Amazon Prime Video and Vimeo streaming outlets for rental and purchase.
The Patch CV story presents the passion and inspiration behind the artist's organic compositions that are rapidly transforming the soundtracks of modern film and network productions. These electronic musical creations are alive only in the moment of their performance and then forever lost when the power switch goes off. Capturing this immediate creative vision and personal process from patch to pulse will be the journey we share.
"Patch CV It is about personal expression, collaboration, curiosity, exploration and discovery through an accessible art form at a time when we are socially distant and otherwise isolated." - Joseph Spatarella, Executive Producer, Organic Artists LLC
Modular synthesis allows the user to discover and define his or her own personal sonic identity through the modules they chose. These uniquely designed and developed modules have become a part of the creative identity of each user. The developers challenge is to design new products that inspire and expand these character voices and keep this symbiotic community blooming with limitless creative freedom. Patch.CV will tell the stories of these brilliant minds that yearn for this ultimate expression.
Patch CV film project Creator and Director, David Elliott Johnson, is a Gold and Multi Platinum songwriter, producer, and drummer. This cinematic production departure was his way of reconnecting with his own creative process. His muse was the emotionally charged modular music being created in the present moment only to be discarded with the flick of the "OFF" switch. This pure attention to tonal detail and sonic brilliance, without the forethought of success or popularity, was foreign to him.
"I needed to reboot my own creativity and rediscover my own truth in inspiration. These artists and their music opened my soul back up to new creative possibilities. I discovered I didn't feel the need to justify my creative expression with results of public validation or create for the benefit of popularity" - David Elliott Johnson, Creator/Director/Music Supervisor
Executive Producer, Joe Spatarella, supported this vision to further his own love for the arts and the creative community that deserves to be discovered by all.
"It is exciting to introduce the public to an art form and community many know nothing about.  Modular Synthesis brings together technology, engineering, film, music, art and personal expression in a collaborative and accessible form." - Joseph Spatarella, Executive Producer
Emmy Award winning Director of Photography and Editor, Britt Thomas McTammany has spent the majority of his life in the pursuit of engaging visual story telling. His natural ability to add tone and emotion to a scene based on the music is a result of decades of being a musician and composer himself.
"David and I wanted to put the artists and the music they create at the forefront.  We felt their stories and passion as echoed in the music was the heartbeat of the film.  There are very few lulls in the soundtrack as a result of spending months in post-production crafting stories around their music and creating visuals to match their personalities."  - Britt Thomas McTammany, Director of Cinematography/Editor/Colorist
A limited pressing, 3 volume, vinyl album soundtrack is available on Organic Vinyl.
Unsolicited reviews quoted:
"One of the best documentaries on ANY subject on ANY streaming service. Visually stunning production"
"Now THIS is F'ing BRILLIANT!"
"How is this not at the top of everyones lists yet, it's FANTASTIC!"
"I know ZERO about music and I found myself INSPIRED to get into Modular Synthesis"
"The way the film invites you in and keeps you moving along is soothing"
"I had no idea about the subject but found myself TRANSFIXED ON THE BEAUTY of the film and the soundtrack"
"How come I've never heard of these GENIUS ARTISTS?"
"Editing at it's finest, the flow and energy with the music is INTOXICATING"
"Patch CV sets the NEW STANDARD in documentary films, KUDOS"
"I wanted more when it was over…there is more, right?"
"The SOUNDTRACK is ART in itself"
This is the first feature documentary film by Organic Artists, a film venture with their Organic Vinyl record and artists development label, and GearKids WifeHouse music publishing and licensing division.
Organic Artists has created a 3 volume, limited edition colored vinyl, soundtrack featuring the musical works of the featured artists available on Organic Vinyl at PatchCV.com/shop
Additional film assets can be found at PatchCV.com or requested via info@patchcv.com
​
Patch CV was produced by Organic Artists LLC, in partnership with Organic Vinyl. Executive Producer- Joseph Spatarella, Creator/Director/ Music Supervisor - David Elliott Johnson, Director of Cinematography, Editor, and Colorist - Britt Thomas McTammany, Technology Advisor - Cory Sterling
Contact - info@patchcv.com