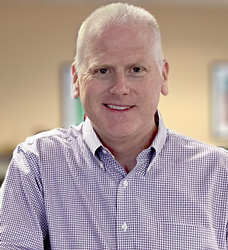 "As both a strategic and operational leader, [Phil] has transformed our HR and talent acquisition functions, championed a culture shift, and led our efforts to improve employee engagement. I am thrilled to see him recognized for his accomplishments."
ITASCA, Ill. (PRWEB) February 01, 2021
Discovery Health Partners today announced that Phil Garrison, Vice President of Human Resources, has been named one of Crain's Chicago Business' 2021 Notable Leaders in HR. The Crain's list recognizes HR executives for demonstrating the power to effect change in the areas of recruiting and retaining talent, improving efficiency, enhancing company culture, and promoting diversity and inclusion.
"In his tenure at Discovery, Phil has been an outstanding member of our executive leadership team and has earned a great deal of employee trust and respect," said Discovery Health Partners CEO Jason Brown. "As both a strategic and operational leader, he has transformed our HR and talent acquisition functions, championed a culture shift, and led our efforts to improve employee engagement. I am thrilled to see him recognized for his accomplishments."
Garrison boasts more than 30 years as an HR professional and is responsible for all aspects of Discovery Health Partners' HR function. Under his leadership, the company's Glassdoor ratings have improved from 2.6 to 4.1 and voluntary attrition has been cut in half. Specifically, Garrison introduced a strategic variable pay program to incent and reward individual productivity and increase gross margin. His remote work program, which was implemented pre-pandemic, shifted 70 percent of employees to a work-at-home arrangement, increasing productivity while reducing overhead costs. Garrison also launched the company's first-ever comprehensive leadership development program and created a "Helping Hands" program that provides financial support and paid time off for employees facing hardships. Garrison is the chief architect and advocate of Discovery's company-wide accountability program, which educates and institutionalizes employees' personal commitment to owning their part in accomplishing the company's key results.
Garrison's accomplishments go beyond his impressive role at Discovery. An active member of his local community, Garrison serves as commissioner on the Historic Preservation Commission of Naperville. He also volunteers for 360 Youth Services.
About Discovery Health Partners
Discovery Health Partners' mission is to deliver unique, actionable analytic insights and technology-powered solutions to help healthcare payers improve payment integrity, increase revenue optimization, and maximize efficiencies. Serving more than 80 health plans across the U.S., including nine of the 10 largest U.S. health plans, Discovery has been recognized consistently for its growth and innovation—earning a spot on the Inc. 5000 list seven years in a row, the Crain's Fast 50 four times, and a prestigious FutureEdge 50 Award from IDG for innovations in machine learning. For more information on Discovery Health Partners, go to http://www.DiscoveryHealthPartners.com.