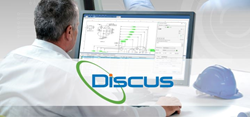 COLUMBUS, Ohio (PRWEB) July 27, 2020
Columbus, Ohio-based, DISCUS Software is proud to announce their latest software update, DISCUS 2020. This release offers many features to our new and improved look and feel. DISCUS 2020 has once again improved the ease of use and focuses on not only the requests of our customers but also a greater industry need for a more intuitive and responsive software experience.
DISCUS 2020 is the result of internal and external feedback from nearly 2000 customers. We strive to enhance the DISCUS experience across all of our DISCUS modules.
DISCUS 2020 has improvements that include:

Re-implementing side-by-side mode when the DISCUS Planner add-on module is enabled
The ability to optionally include all TDP documents when uploading to Net-Inspect
The ability to filter custom BOC fields
The ability to change the weight of balloon outlines and leader lines
-The ability to exclude grid numbers

Adding Omnex integration
The hidden ability to provide support for .dwg and .dxf 2D CAD files
The option to allow for the specification of starting directory for each file chooser
Defining and uploading data to Net-Inspect fields 14.a – 14.d via the use of DISCUS tokens
Customizing the data that DISCUS uploads to the Net-Inspect Comment field via the use of plain text and DISCUS tokens
The ability to append the number of places to the requirement description field when the number of places of greater than 1, in the format "yX", where y=places
Adding a new Data Type "Basic" for which any result value will result in the characteristic passing result validation
The ability to set the default value for the Key field in the BOC
Adding features to decrease the number of steps required to apply balloon property changes to existing characteristics
Adding the ability to export to Excel the Operation Analysis data when the DISCUS Planner add-on module is enabled
And more…
We are committed to customer satisfaction and are dedicated to making your DISCUS experience even more positive. Visit our website to download this latest version: http://www.DISCUSsoftware.com
DISCUS 2020 provides upgraded features that continue to help the user have a great experience while using DISCUS.
To try out DISCUS 2020, Download the free trial installer by clicking here.
For questions or a demo, contact sales@DISCUSsoftware.com or call 614-360-2424 ext. 1.