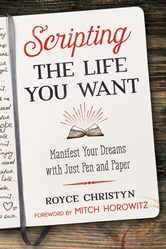 From small dreams to lifelong goals, this book gives you the tools to put your thoughts into action and finally close the gap between where you are and where you want to be in your life.
ROCHESTER, Vt. (PRWEB) August 16, 2020
Actor Royce Christyn (Disney Channel, Nickelodeon) pulls back the curtain to reveal a method people from all walks of life can use to create the life of their dreams. Sharing groundbreaking science and the journal entries that detail his big breakthrough—when he successfully used his boundary-pushing method to land a lead guest-starring role on Disney Channel's Wizards of Waverly Place with Selena Gomez and found his future husband—this book takes the worlds of science, self-help, and spirituality and flips them on their heads. World-renown doctor and medical scientist Dr. Dena Grayson, M.D., Ph.D., says of Scripting the Life You Want, "Royce details how to implement scripting in your everyday life, while simultaneously demystifying the science behind why his approach actually works in a way that Einstein would approve."
With the feature film version of The Secret (starring Katie Holmes) now released, Scripting the Life You Want, Royce Christyn dares to challenge the century-old teachings of manifesting, science, and self-help by providing a young, modern-day millennial take on this controversial method. Ted Allen, (Food Network's Chopped) praises that Scripting the Life You Want, "…offers a system of strategies to figure out what you really want your life to become, and to make it happen."
Not afraid to go against the grain, Christyn encourages his readers to go to the doctor if they are sick and to stop victim-blaming others for not "thinking positive-enough thoughts." Inspired by the often-separated positive thinking and scientific classics this book updates teachings for fans of everything from The Secret to The Selfish Gene. Publishers Weekly (Apr.) praised, "...those already interested in the concept of scripting and the actualization of one's intentions will be moved by Christyn's optimistic work." The author explores the science behind scripting, including a down-to-earth look at quantum mechanics, the nature of time, and the fascinating world of memetics. The worlds of science and spirituality are bridged together in a book Christyn hopes will become the next go-to New Thought book for a new decade—and generation.