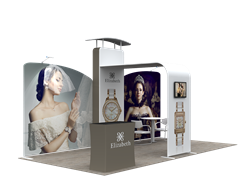 Display Solution provides high quality and affordable trade show solutions to meet your budget and marketing needs.
VAUGHAN, Ontario (PRWEB) January 23, 2020
Display Solution, an online retailer and wholesale provider of trade show displays and other event marketing products and accessories, is running a special campaign for exhibitors at the upcoming International AutoShow in Toronto. A division of leading trade show display print, design and manufacturing company Digital Xpressions, Display Solution is ready to offer up to 10 percent off on any large order of exhibition items placed by Canadian International Auotoshow attendants.
To obtain the discount, users simply need to buy anything with their company name or logo imprinted. The discount is applicable to a wide range of items sold by Display Solution, from pop-up walls and banner stands to table covers, hanging items, trade show booths and more.
Besides the discounts, Display Solution is also offering a low-price guarantee. "When combined with the ongoing The Autoshow - Toronto campaign exhibitor promotion, this is the best time stock up on logoed display products for all your exhibiting needs," Digital Xpressions Founder and CEO Bhavesh Rathod said. "This is a great opportunity for trade shows, company showrooms, and any other marketing events that you may have," Rathod added.
The Canadian International Autoshow is the country's most anticipated automotive event, with more than 500 exhibitors and over 200,000 people expected to attend the 10-day show between Feb 14 to Feb 23, 2020, at the Metro Toronto Convention Center in Toronto. Founded in 1974, the event gathers together tens of the features a display of the product from Automotive, Bicycles, Rickshaw & Spares, Electronics & Electrical Goods, Sporting Goods, Toys & Games, Business Services, Misc. & Exhibition, Logistics & Transportation industries.
According to Display Solution, it takes three to seven seconds to capture the attention of an average exhibitor and having a branded trade show display can help any business attract the attention of potential customers or partners at any event. As a one-stop-shop for custom-made trade show displays and event marketing products, Display Solution offers a wide range of top-quality trade show solutions, including trade show booths, custom printed canopy tents, advertising flags, custom inflatable tents, hanging banners and signs, trade show table covers and other personalized solutions to meet the needs of Canadian customers.
To benefit from the available discounts, users can use the coupon code "AUTOEXPOOFF" at checkout during this promotion period. The coupon cannot be combined with any other discounts or coupon codes. For more information about Display Solution and its Toronto International Auto Show promotion, call 1-888-285-9505 or visit https://displaysolution.ca/
About Display Solution:
Display Solution is a division of Digital Xpressions Print & Design. Established in 2006, Digital Xpressions began as a portable/modular distributor and now rents large custom exhibits at more than 300 shows in Canada and countries around the world.
Display Solution serves the needs of first-time and seasoned exhibitors that go to multiple international, national, regional, and local shows and clients that do community work, in-house events, festivals, and fairs. The company has a large and diverse product roster that includes portable banner stands, display signage, display lights, digital kiosks, display boards, as well as exhibit furniture.