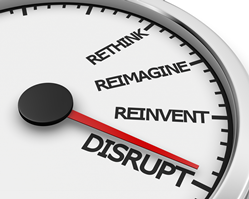 If you want to truly disrupt your industry, you must take full ownership of your story, your differentiation, and your narrative—stop listening to the 'yes men.'
TAMPA BAY, Fla. (PRWEB) November 22, 2021
Guess what? Sex still sells. At least that's what many of today's entrepreneurs are being told. So, they go with the same branding and messaging as others in their industry. But what they are actually doing is just creating a lot more white noise instead of rising above that noise. They end up looking like any other brand in their industry because they lack any distinctiveness. So, what these business leaders think of as being disruptive is really doing the complete opposite—making them just blend in with the rest.
But, enter the right kind of "noisemaker", President and Creative Director at DBD International, who explains to Karla Jo Helms, host of the Disruption Interruption podcast, that if you want to truly disrupt your industry, you must take full ownership of your story, your differentiation, and your narrative—stop listening to the "yes men" who are just trying to cover their a**es and leaving you bare-a**ed.
Many years ago, David realized that he was really good at pulling things apart and telling the difference between conclusions/opinions and facts and realized most of his clients' conclusions "sucked" and served no one. David then said to himself, THAT'S IT—I'M DONE WITH THE STATUS QUO and started challenging these entrepreneurs on their conclusions, and found they had no answers to counter him. They had never been challenged about their conclusions! He made it his mission to truthfully define branding to these businesses, even if it meant enraging those same clients.
David explains:
1. The most crucial element of disruption is being attentive first. Lots of businesses arrive and make waves but are not attuned to good disruption and change, nor where the changes are needed.
2. Your brand should accurately reflect you. You must own your communication and story. Your brand is built on you and needs to properly portray you.
3. People will not change their thinking based on old news. You need to ensure that you sound unique to get your brand noticed.
4. Branding is the art of differentiation – not of being similar to others in your industry.
5. There are three steps to branding; Pre-Sales branding, During the Sales Branding, and Post-Sales Branding. The majority of businesses concentrate on just two of the three, but all of them are crucial.
6. You want to be more connected to the solution to your customers' problems. Case in point: Netflix is all over the world, and only one Blockbuster remains.
Disruption Interruption is the podcast where you'll hear from today's biggest Industry Disruptors. Learn what motivated them to bring about change and how they overcome opposition to adoption.
Disruption Interruption can be listened to via the Podbean app, and is available on Apple's App Store and Google Play.
About Disruption Interruption:
Disruption is happening on an unprecedented scale, impacting all manner of industries— MedTech, Finance, IT, eCommerce, shipping and logistics, and more—and COVID has moved their timelines up a full decade or more. But WHO are these disruptors and when did they say, "THAT'S IT! I'VE HAD IT!"? Time to Disrupt and Interrupt with host Karla Jo "KJ" Helms, veteran communications disruptor. KJ interviews bad a**es who are disrupting their industries and altering economic networks that have become antiquated with an establishment resistant to progress. She delves into uncovering secrets from industry rebels and quiet revolutionaries that uncover common traits—and not-so-common—that are changing our economic markets… and lives. Visit the world's key pioneers that persist to success, despite arrows in their backs at http://www.disruptioninterruption.com.
About Karla Jo Helms:
Karla Jo Helms is the Chief Evangelist and Anti-PR(TM) Strategist for JOTO PR Disruptors(TM).
Karla Jo learned firsthand how unforgiving business can be when millions of dollars are on the line—and how the control of public opinion often determines whether one company is happily chosen, or another is brutally rejected. Being an alumni of crisis management, Karla Jo has worked with litigation attorneys, private investigators and the media to help restore companies of goodwill back into the good graces of public opinion—Karla Jo operates on the ethic of getting it right the first time, not relying on second chances and doing what it takes to excel. Helms speaks globally on public relations, how the PR industry itself has lost its way and how, in the right hands, corporations can harness the power of Anti-PR to drive markets and impact market perception.
About David Brier:
A Fast Company expert blogger and the subject of numerous articles in Forbes, INC., The New York Times, ADWEEK, Huffington Post and Business Insider, David Brier is the recipient of the Presidential Ambassador for Global Entrepreneurship medallion, presented to David by Shark Tank star and NY Times bestseller Daymond John. An award-winning veteran (recipient of over 330 international industry recognitions) in branding, rebrands, design, and brand strategy, David has designed and transformed global brands, regional and local brands, and brands for startups and even cities.