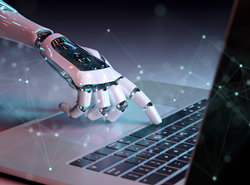 Cloud migration is not a single technology, but rather a business strategy, Yet despite its many advantages, such as eliminating a lot of mind-numbing work, there is a tremendous amount of pushback on the idea.
TAMPA BAY, Fla. (PRWEB) November 10, 2021
Despite the fear from many companies of how it will affect their balance sheet, the move to a cloud-based solution set is happening. It is estimated that the market worldwide for cloud-based services will increase to $50.1 billion, a compounded growth of 29.4%.(1) However, cloud migration is not a single technology, but rather a business strategy, Yet despite its many advantages, such as eliminating a lot of mind-numbing work, there is a tremendous amount of pushback on the idea—it's seen as disruptive to company operations, far too costly, and the automation it brings threatens employees' jobs. Because businesses don't understand just how automation works, there is a lot of fear of the unknown.
Enter "The Re-innovator" Kevin Buckley, the Automation Expert at Technologent, who explains to Karla Jo Helms, host of the Disruption Interruption podcast, that if you speak directly to the people performing drudging tasks, businesses can learn how to use automation to improve workflows.
After seeing over and over again, a lack of communication or partnership between IT and business, Kevin said to himself, THAT'S IT—I'M DONE WITH THE STATUS QUO and dove into automation and hyperautomation, educating himself on these technologies, and realized that when you talk to the people who perform the tasks you're looking to improve, you learn their unique circumstances and from there you can best adapt automation for their needs.
Kevin explains:
1. Greenfield businesses are born in the cloud and coming to market without investing in a tremendous amount of technical debt.
2. Brick-and-mortar stores have to compete with Greenfield businesses by disrupting themselves without interfering with their daily needs.
3. It's important to retain customer loyalty while at the same time keeping costs down.
4. Automation is a method of minimizing cost while simultaneously streamlining your business.
5. When trying to improve various work processes, it's important to listen to stakeholder input. They grasp the overall situation and have different perspectives.
6. Two industries that need better automation systems are healthcare and retail.
Disruption Interruption is the podcast where you'll hear from today's biggest Industry Disruptors. Learn what motivated them to bring about change and how they overcome opposition to adoption.
Disruption Interruption can be listened to via the Podbean app, and is available on Apple's App Store and Google Play.
About Disruption Interruption:
Disruption is happening on an unprecedented scale, impacting all manner of industries— MedTech, Finance, IT, eCommerce, shipping and logistics, and more—and COVID has moved their timelines up a full decade or more. But WHO are these disruptors and when did they say, "THAT'S IT! I'VE HAD IT!"? Time to Disrupt and Interrupt with host Karla Jo "KJ" Helms, veteran communications disruptor. KJ interviews bad a**es who are disrupting their industries and altering economic networks that have become antiquated with an establishment resistant to progress. She delves into uncovering secrets from industry rebels and quiet revolutionaries that uncover common traits—and not-so-common—that are changing our economic markets… and lives. Visit the world's key pioneers that persist to success, despite arrows in their backs at http://www.disruptioninterruption.com.
About Karla Jo Helms:
Karla Jo Helms is the Chief Evangelist and Anti-PR(TM) Strategist for JOTO PR Disruptors(TM).
Karla Jo learned firsthand how unforgiving business can be when millions of dollars are on the line—and how the control of public opinion often determines whether one company is happily chosen, or another is brutally rejected. Being an alumni of crisis management, Karla Jo has worked with litigation attorneys, private investigators and the media to help restore companies of goodwill back into the good graces of public opinion—Karla Jo operates on the ethic of getting it right the first time, not relying on second chances and doing what it takes to excel. Helms speaks globally on public relations, how the PR industry itself has lost its way and how, in the right hands, corporations can harness the power of Anti-PR to drive markets and impact market perception.
About Technologent:
Technologent is a Global Provider of Edge-to-Edge(TM) Information Technology Solutions and Services for Fortune 1000 companies. They help companies outpace the new digital economy by creating IT environments that are fast, flexible, efficient, transparent and secure. Without these characteristics, companies will miss the opportunity to optimally scale. Technologent mobilizes the power of technology to turn vision into reality, enabling a focus on driving innovation, increasing productivity and outperforming the market. Visit http://www.technologent.com.
1. Businesswire newsroom; "Global Cloud Based Data Management Services Market Analysis, Trends, and Forecasts 2019-2025 - ResearchAndMarkets.com"; December 24, 2019; businesswire.com/news/home/20191224005134/en/Global-Cloud-Based-Data-Management-Services-Market-Analysis-Trends-and-Forecasts-2019-2025