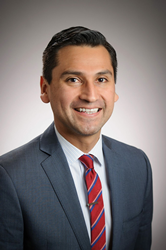 NEW YORK (PRWEB) September 30, 2020
Distinguished Programs, a national insurance program manager, today officially announces the hiring of Brando Guerrero as a regional sales executive in New York. Guerrero will oversee growth/broker partners in Manhattan, the Hudson Valley, and the rest of greater New York.
"Brando brings a strong history of insurance experience in sales strategy and management that will be incredibly valuable as we seek to expand our outreach in New York," said Kurt Meister, senior vice president of business development at Distinguished Programs. "We are very excited to see his breadth of experience translate into great success in the near future."
In his new role, Guerrero will be responsible for sales of Distinguished's complete suite of programs and services within Manhattan, Hudson Valley and upstate New York.
Prior to joining Distinguished Programs, Guerrero spent more than eight years at Nationwide Insurance in New York, working as an associate sales manager and agency development sales manager where he gained invaluable experience in the regional markets he will now be serving. Additionally, Guerrero has worked at Harleysville Insurance as a territory sales manager, American European Insurance Group as a territory marketing director, and MetLife as a Senior Commercial Lines Sales Development Manager.
Guerrero graduated from the University of Iowa with a bachelor's degree in communication and media studies and received his master's in business administration from Rutgers Business School.
About Distinguished Programs
Distinguished Programs is a leading national insurance Program Manager providing specialized insurance programs to brokers and agents with specific expertise in Real Estate, Community Associations, Cultural & Historic Properties and Hospitality & Restaurants. Property and liability products are distributed through a national network of agents and brokers. Serving the same core markets and partnering with the most stable and reputable carriers, Distinguished Programs' high limit umbrella programs remain the clear choice in its areas of specialty for superior coverage, competitive pricing, and attentive service. Through thoughtful innovation, stemming back to 1987, Distinguished Programs fosters growth and opportunities for its brokers, carriers, and employees. http://www.distinguished.com.