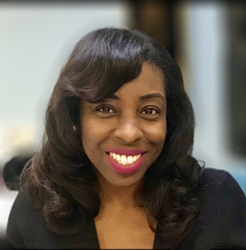 NEW YORK (PRWEB) January 13, 2020
Distinguished Programs, a national insurance program manager, today officially announces the promotion of Renée A. McFadden. McFadden, a member of Distinguished Programs for more than 18 years, will now take over as vice president and regional sales executive in New Jersey and eastern Long Island, including Queens and Brooklyn.
"Renée brings significant experience and a strong reputation to her new role with Distinguished Programs," said Kurt Meister, senior vice president of business development at Distinguished Programs. "Time and time again she has provided clients in the real estate and hospitality sectors with high level market knowledge. We are proud of the work she has done, and we look forward to her continued contributions across all of our insurance products."
McFadden previously was responsible for sales around Distinguished Programs real estate and community association programs. In her new role, McFadden will be responsible for sales of the organizations complete suite of programs and services within her designated region.
In 2016, McFadden was named Industry Professional of the Year by Professional Insurance Agents.
Prior to her role with Distinguished Programs, McFadden worked at RSA as a multi-line underwriter and Wausau Insurance before that, as both a property underwriter and paralegal.
Based in New York, McFadden is a graduate of St. John's University in Queens, New York. She holds the designations of Certified Insurance Counselor and Certified Programs Leader, and serves as board of directors executive vice president for the Insurance Brokers Association of New York.
About Distinguished Programs
Distinguished Programs is a leading national insurance Program Manager providing specialized insurance programs to brokers and agents with specific expertise in Real Estate, Community Associations, Cultural & Historic Properties and Hospitality & Restaurants. Property and liability products are distributed through a national network of agents and brokers. Serving the same core markets and partnering with the most stable and reputable carriers, Distinguished Programs' high limit umbrella programs remain the clear choice in its areas of specialty for superior coverage, competitive pricing, and attentive service. Through thoughtful innovation, stemming back to 1987, Distinguished Programs fosters growth and opportunities for its brokers, carriers, and employees. http://www.distinguished.com.