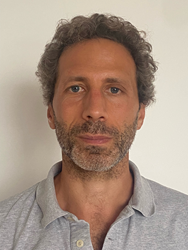 I'm delighted to be judging this year's entries in the Short Film category. So many innovative directors got their start in the short form. It's a great opportunity to see rising and emerging talents, ones who are destined to go on to achieve great things in cinema. - François Scippa-Kohn
NEW YORK (PRWEB) November 01, 2021
The COLCOA French Film Festival kicks off on November 1 in Hollywood with a slate of impressive films in competition and a veteran French film executive on the jury panel to evaluate the entries in the Short Films category. François Scippa-Kohn, President of the New York-based Distrib Films US, a film importer and distributor, will be one of four jury members sitting on the Short Films jury this year. For more on the full Short Films jury, click here.
Scippa-Kohn has specialized in distributing high-quality independent films since 2010, initially working in his native France before founding Distrib Films and relocating to the US in 2013. While with Chrysalis Films, he acquired or released such notable features as "City Island" (directed by Andy Garcia), "Let the Right One In" (directed by Tomas Alfredson), and "Primo Levi's Journey" (directed by Davide Ferrario). Since then, he's released such titles as "Force Majeure" (directed by Ruben Ostlund), "Terraferma" (directed by Emanuele Crialese), and "The Hour Double" (directed by Giuseppe Capotondi). Scippa-Kohn is soon to release his 100th picture under his Distrib Films banner, making his boutique company a leading source of talked-about and critically acclaimed foreign films in America.
"I'm delighted to be judging this year's entries in the Short Film category," Scippa-Kohn comments. "So many innovative directors got their start in the short form, which imposes an entirely different storytelling structure on a filmmaker. It's a great opportunity to see rising and emerging talents, ones who are destined to go on to achieve great things in cinema. So I'm truly looking forward to the experience."
The COLCOA French Film Festival is presented by the Franco-American Cultural Fund in partnership with SACEM (the French Society of Authors, Composers and Publishers of Music), along with the Directors Guild of America, the Writers Guild of America West, and the Motion Picture Association. It takes place from Nov. 1 through Nov. 7, live and in-person, at the DGA Theater in Los Angeles. For more information on the Festival, visit https://colcoa.org/.
For more on the festival's Short Films competition, please go here.