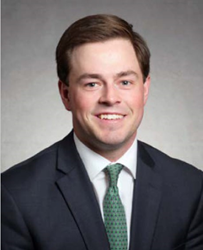 NASHVILLE, Tenn. (PRWEB) November 12, 2021
William Tanner has joined Distribution Realty Group ("DRG") as its Vice President of Capital Deployment. In his new role, he will be responsible for sourcing new industrial acquisition and development opportunities throughout DRG's existing and expansion markets across the Southeast and Midwest. William has five years of prior commercial real estate experience, most recently at Nashville-based Truxton Trust where he financed over $50 million of commercial real estate projects. William holds a Bachelor of Science from the University of Tennessee, Martin.
About DRG:
DRG was founded in 2013 as a private industrial real estate company with offices in Chicago, Illinois and Nashville, Tennessee. The firm's complimentary investment approach blends institutional scale with local entrepreneurial focus. DRG has acquired and developed over 7.6 million square feet of industrial properties with a total market capitalization in excess of $540 million.