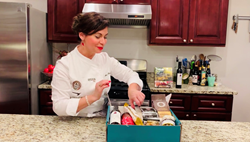 "For years my students, readers, and followers have been telling me that it was hard to get top quality ingredients in one place. When the pandemic hit, shopping became more difficult and limited, so I created a one-stop solution for everything they would at home." ~ Chef Amy Riolo
WASHINGTON (PRWEB) September 11, 2020
Italian chefs agree that having the best quality ingredients possible is integral to recreating authentic Italian dishes at home. After years of witnessing the difficulty her students, readers, and followers had in locating the finest ingredients needed to make her recipes properly, Chef Amy Riolo proudly partnered with DITALIA, an e-commerce shop offering specialty, imported Italian foods. Together Chef Amy and DITALIA collaborated to offer an exclusive box of high-quality, artisan Italian products needed to make classic primi – first courses which are the backbone of the Italian kitchen, available now on ditalia.com. The artisan products in this box enable you to make risotto, pasta, polenta, sauces, and appetizers like an Italian professional – without ever leaving your kitchen, and at a fraction of the price that it would cost to eat them in restaurants.
Chef Amy offers a signature recipe collection on her website with step by step instructions needed to transform ordinary dishes into mouth watering masterpieces.
The Amy Riolo Selections Italian Primi Essentials Gift Box includes the following 7 products:
AMY RIOLO SELECTIONS ITALIAN EXTRA-VIRGIN OLIVE OIL
This 100% Italian extra-virgin olive oil hails from the world-renown Trappeto di Caprafico family-owned estate (rated the 3rd best Olive Mill in the World 2019-2020) in Italy's Abruzzo region, where she leads culinary tours.
The careful blending of three olives varieties lends sweet, harmonious, and fruity characteristics to the flavor of the oil. Cold-extraction and natural filtration combined with its' very low-acidity rate make this oil the perfect choice for both ultimate flavor and health benefits. This one-of-a-kind oil boasts notes of tomatoes, almonds, herbs, and artichokes. It pairs well with grilled and roasted meats, poultry and fish, tomato sauces, cooked vegetable dishes, salads, and a wide range of antipasti.
2. Verrigni SPAGHETTORO (GOLD DIE CUT PASTA)
Imported from Abruzzo, Italy, Verrigni is the only gold dyed pasta in the world. Chef Amy and many of the most celebrated chefs in Italy use and appreciate Verrigni because of its selection of the finest grains and its use of ancient techniques. This pasta has a very different consistency than those drawn by bronze die molds. Specifically, the gold-drawn pasta creates a distinct flavor and smell, and a look that is more intensely al dente. When cooked, its absorption and swelling are rapid, and it provides a more slippery, smooth, more intense wheat taste and a more yellow color, creating a beautifully rich dining experience.
3. DETACCHI BIANCOPERLA WHITE CORN FLOUR "STONE GROUND POLENTA"
Biancoperla stone ground white corn polenta (Slow Food Presidia) from the Veneto region of Italy is a rare and prized corn varietal with a distinct sweetness and delicate flavor. It is known for its low yield, fineness, and delicate flavor. This pearl-white variety is obtained from an ancient quality of maize which now risks becoming extinct, thus making it a protected and recognized Slow Food Presidium product. It pairs perfectly with seafood stews or grilled fish, and can also accompany meaty and vegetarian stews.
4. TENUTA MARGHERITA CARNAROLI RICE
Carnaroli rice is widely known as the "king of rice" in Italian cuisine. Riso Margherita's superfine carnaroli rice represents the best in quality and versatility. Excellent as an accompaniment to a main course, in a rice salad, or as the star of the show in a creamy risotto, this rice is sure to impress. Since Italian chefs are often judged on their risotto-making skills, Chef Amy has chosen this product to ensure perfection each time.
5. D'ORAZIO PASSATA DI POMODORO
This product is made with Italian tomatoes imported from Italy. It is the perfect base for homemade tomato sauces, soups, stews, pizza, and more. Chef Amy prefers the consistent slightly sweet-fresh taste that these tomatoes add to her recipes.
6. DISPENSA DEI GOLOSI CHILI PEPPER PATÉ
Dispensa dei Golosi (Pantry of the Food Lovers) is a small artisanal company close to the beautiful city of Messina, in the heart of Sicily. Their mission is to enhance the authentic, rich flavors of their unique and fertile land. The result of their efforts are amazing gourmet products, great as finger food, appetizers or to play with tasty pasta dishes or cheese plates. Chef Amy loves to add this pesto into tomato sauces, use it as a pizza topping, or to stir into appetizers, soups, and stews.
7. PITTED TAGGIASCA OLIVES BY ANFOSSO
A unique pleasure, these mild and sweet Taggiasca olives are suspended in extra-virgin mono-cultivar Taggiasca olive oil. The Taggiasca olive creates a buttery, light oil that is famous for its delicacy and simplicity. The olives are grown and pressed in Liguria by the Anfosso family, who have been making quintessential Ligurian products using traditional methods of cultivation and production for centuries.
You can shop Chef Amy Riolo's Primi Essentials Gift Box now at ditalia.com.
For more information, or to schedule an interview with Chef Amy Riolo, contact the author Francesca Nicastro via email: Francesca@ditalia.com.