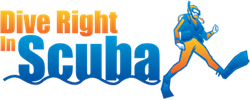 I was so happy when Dive Right In Scuba announced that they were offering online classes.
ORLAND PARK, Ill. (PRWEB) July 22, 2021
Here are some highlights of what Dive Right In Scuba brings to the table in terms of all things non-scuba:
Dive Right In Scuba Offers a Range of Virtual Courses
In response to the COVID-19 pandemic, Dive Right In Scuba began offering virtual courses. Although things are looking up, with much of the United States having returned to near-normal, the Orlando Park-based scuba gear retailer currently offers 10 virtual classes through its website. These courses are held through Zoom at 6:00 p.m. Central Time; classes are currently scheduled once a month through the remainder of 2021.
Dive Right In Scuba's lineup of virtual classes include the history of diving, the basics of bloodborne pathogens, neurological assessment provider training, and coral reef conservation. Classes are currently offered by either Dive Right In Scuba's in-house instructors or professionals from the Professional Association of Diving Instructors (PADI) or Technical Diving International (TDI). Students can even earn real-life certifications through certain courses (e.g., PADI/SDI Dual Certification Equipment Specialist course).
One student of these online courses commented: "I was so happy when Dive Right In Scuba announced that they were offering online classes. I had planned on getting my Dual Certification before COVID hit, and was excited to know that I could still do that while staying safe in my home. I'm definitely signing up for more classes in the future!"
The company also offers an ILCOR- and OSHA-compliant CPR course which includes real-time skills verification.
In-Person Classes That Aren't Specific to Scuba Diving
In addition to Dive Right In Scuba's range of virtual courses and dozens of hands-on scuba diving lessons, interested patrons can enroll in their choice of eight in-person classes that aren't necessarily scuba-related: five first aid classes, two Divers Alert Network (DAN) classes, and one PADI class. These classes are rotated on a monthly basis, so interested parties can book a course that aligns with their personal schedule.
DAN gets small groups to learn about the basics of CPR and first aid through its American Heart Association-certified Basic Life Support class, which takes four-and-a-half hours to complete. Eager students can choose from two emergency oxygen provider classes, one from PADI and another from DAN.
Four classes from First Response Training International (FRTI) can be found through Dive Right In Scuba's website: Child & Infant Emergency Care, Oxygen Administration, Adult, Child & Infant Emergency Care, and Workplace CPR/AED.
Photography This, Photography That — Dive Right In Scuba's Got It All
Well, almost all. Dive Right In Scuba sells a wide range of water-resistant and waterproof cameras, underwater lighting setups, camera cases, and related accessories.
Cameras range from the compact digital ReefMaster RM-4K, which features rigid, ergonomic housing and a "Moisture Muncher" drying agent that keeps internal fogging at bay, to the high-end Sealife Micro Pro Duo 5000 Set, which includes two attached 2500F Sea Dragon lights and a 16-megapixel Sony image sensor that records ultra-high-definition videos in full 4K quality.
For more information, please visit: https://www.diverightinscuba.com/
Dive Right In Scuba
16336 104th Ave,
Orland Park, IL 60467
(815) 267-8400