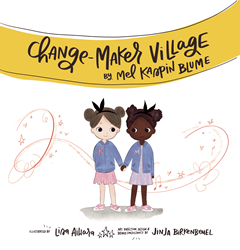 Take action. Be anti-racist and pro-Black. Start right now.
CHICAGO (PRWEB) February 10, 2021
February is Black History Month, which makes now a perfect time to grab your copy of the just-released Change-Maker Village, an anti-racist book for all ages, written by Mel Kaspin Blume, illustrated by Lisa Aihara, with art direction, design consulting and cultural editing from JinJa Birkenbeuel, CEO, Birk Creative. According to Birkenbeuel, the book has a message that is timelessly relevant: "Take action. Be anti-racist and pro-Black. Start right now." With all profits from the sale of the book going to the NAACP, you can begin taking anti-racist action today.
This book is the latest in Birkenbeuel's ongoing project to broadcast her unique blend of digital, creative, and multicultural expertise. Change-Maker Village was born from a simple LinkedIn exchange, between Blume, an American Jewish woman, and Birkenbeuel, an American Black woman. What followed was a creative and digital collaboration blossoming far beyond a traditional children's book.
Birkenbeuel used her experience to help establish publishing control and digital rights, including setting Blume up on her own publishing platform. As the cultural editor, she aligned the text and illustrations with the book's dignified anti-racist and pro-black vision. As the design consultant, Birkenbeuel designed the cover and interior spreads, oversaw all print production, including vendor selection and press oversight, and created the digital version of the book for iPhones and tablets. They even collaborated on the song "400 Years," which was released, along with an animated video, on the author's YouTube channel, with a remix available on iTunes.
Most importantly, what Birkenbeuel brought to the table for Blume is a vision of a truly independent creativity. Having achieved her own success as a critically acclaimed designer, brand strategist, and technology leader, as the host of The Honest Field Guide podcast, and with her band Utah Carol, Birkenbeuel understands not only the importance of chasing creative possibilities, but ruthlessly doing so on your own terms.
You can purchase Change-Maker Village at http://www.onceuponablume.com/changemaker-village, with all profits going to the NAACP, a perfect way to celebrate Black History Month!
###
Birk Creative, based in Chicago, IL, is one of the country's premier multichannel brand strategy, digital transformation and visual identity agencies helping mid-market companies launch brands. Clients include Facebook, Tesla, CPASS Foundation and Google.
More Resources
JinJa 2021 Female Frontier Honoree
JinJa is GDUSA 2021 People To Watch
JinJa in Fast Company Magazine
The Honest Field Guide Podcast
Utah Carol
LinkedIn
Instagram
Twitter
YouTube