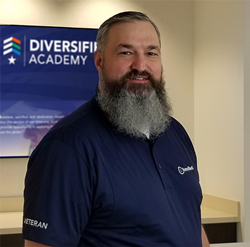 I look forward to finding candidates who will contribute to Diversified's DNA and working to grow the program into other areas of the country
KENILWORTH, N.J. (PRWEB) January 21, 2020
Diversified, a leading global technology solutions provider, welcomes Mark Clifton as the new Program Manager for Diversified Academy. Launched just a few short months ago, this new career skills program provides training and employment opportunities to Veterans and their spouses and has since graduated and welcomed two classes into the Diversified team.
Given the program's rapid growth at Fort Bragg, this strategic addition provides a dedicated team member laser focused on finding new ways to shape and improve the program for its continued future success. Retired from the military after 25 years of service, Diversified Academy's mission certainly hits close to home for Mark.
"I am very excited to join the team and expand upon what was started during the program's pilot year," says Mark. "Diversified Academy gives a unique opportunity to transitioning service members who are looking to leverage their military experience to launch a new career. I look forward to finding candidates who will contribute to Diversified's DNA and working to grow the program into other areas of the country."
His passion for advancing Diversified's mission to train and employ qualified transitioning service members through the Diversified Academy program certainly make him a welcomed and invaluable member of the team.
The next Academy session begins next month as Diversified continues preparing transitioning service members for their new exciting careers in the civilian sector.
Visit diversifiedus.com/diversified-academy to learn more about this exciting program. Follow us on LinkedIn at https://www.linkedin.com/showcase/diversified-academy/ to stay up to date on the latest Academy developments.
About Diversified
Diversified is a leading global technology solutions provider delivering a comprehensive suite of solutions to help a diverse clientele achieve the highest performance levels, enhance their operations, increase productivity and drive ROI. Our mission is to enable a digital future—connecting people, technology and experiences, where and when it matters most. Our solutions are experienced by millions every day. Removing the distance. Delivering a message. Powering business. Celebrating fandom. Even saving lives.
Founded in 1993, we're a global organization serving local needs with 2,500+ employees in 50+ locations worldwide. Learn more at diversifiedus.com and follow us on LinkedIn and Twitter.