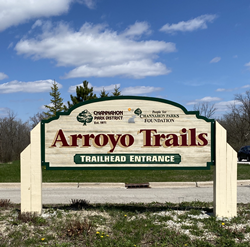 CHANNAHON, Ill. (PRWEB) November 03, 2020
Diversified CPC International (DCPC), a leading global supplier of the highest purity aerosol propellants, hydrocarbon refrigerants and solvent extraction, has provided a $25,000 donation to the People of Channahon Parks Foundation in support of the Arroyo Trails Nature Park initiative in Channahon. The company committed $15,000 to Phase 1 of the project, and another $10,000 to Phase 2 which is currently under development. The Arroyo Trails Park encompasses 78 acres of land and is named for the topography of the area that was formed by glaciers over 10,000 years ago.
"DCPC has deep roots in the Channahon community, and environmental and natural resource protection is a critical part of our business philosophy," said DCPC President and CEO Bill Auriemma. "As a result, we are incredibly proud to be a part of this project. Not only can our employees and the entire community enjoy the park with their families, but it can also become an ecotourism opportunity for visitors to explore which provides economic benefits to area hotels, restaurants, gas stations, retail, and specialty shops."
Phase 1 of the project, a gorgeous one-mile trail, is currently open to the public. It features a woodlands discovery of Virginia Bluebells, and a winding creek bed with sightings of White-Tailed Deer, Nestling birds, and Blue Heron. The trailhead includes fitness stations where you can enjoy exercise inspired by nature, fresh air, and sunshine.
Phase 2 construction will include an outdoor classroom council ring, outdoor amphitheater, nature-themed playground with water play area, pavilion shelter with restrooms, and many additional interpretive, educational, and fun opportunities for children and families to enjoy. The park will also feature many Nature-Based Educational Programs offered throughout the year among the woodlands and grasslands on the property including summer camps, special events, and scout group programs.
"People who have a passion for outdoor recreation start as kids, enjoying parks and other natural areas with their family and friends. It is also when they begin to develop an appreciation and respect for the environment and nature's inhabitants," said Channahon Parks Foundation Board President Michael Rittof. "On behalf of the entire Board, I want to thank Mr. Auriemma and everyone at DCPC for their support of this wonderful project. Not only does it improve the quality of life for the community, but it will also inspire the next generation that holds the power to ensure public lands are protected and preserved."
ABOUT DCPC INTERNATIONAL: Diversified CPC International is a global leader in the design, production, and distribution of the highest quality aerosol propellants, high purity hydrocarbon refrigerants, solvent extraction, and specialty fluids. In addition to industry-leading products, the company maintains an unmatched focus on customer satisfaction and environmental safety in all of its business operations. They also offer an array of value-added services, including safety and process consulting, storage tank sales and installation, and supply chain management, which provide DCPC clients with a unique competitive advantage in the marketplace. For more information, please visit http://www.diversifiedcpc.com.
ABOUT ARROYO TRAILS: Arroyo Trails is a nature park development of the Channahon Park District planned in cooperation with the People for Channahon Parks Foundation benefiting a three-county service area including Will, Grundy, and Kendall. Set on a unique 78-acre site in Channahon, IL, the nature park is unlike any other, reintroducing children and families to nature and enriching life. The nature park is located north of U.S. Route 6 between the DuPage River and Bell Road, three miles west of I-55. For more information, please visit http://www.peopleforchannahonparks.org.