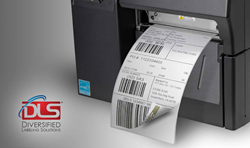 RFID labels are an important addition to our Auto-ID portfolio.
ITASCA, Ill. (PRWEB) December 10, 2020
Diversified Labeling Solutions (DLS), a national converter of pressure sensitive labels, is expanding its Auto ID product offering to include RAIN RFID labels.
RFID (Radio Frequency Identification) labels utilize an embedded UHF inlay to transmit data via radio waves to an RFID encoder. They are used in a wide variety of industries including supply chain and distribution, retail, consumer goods and healthcare to increase speed and accuracy of data collection. RAIN RFID is a global alliance promoting the universal adoption of UHF RFID technology.
DLS has long been a leading supplier of Auto ID labels, including traditional 1D and 2D barcodes. Adding RAIN RFID labels to their portfolio allows distributors to provide comprehensive Auto ID and smart label solutions to their customers. With access to a huge array of inlays and face sheet materials, DLS can support almost any RFID label construction for stock or custom-printed RFID labels. DLS will also serve as the genuine OEM supplier for TSC Printronix Auto ID labels.
"RFID labels are an important addition to our Auto ID portfolio." says DLS VP of Marketing James Cirigliano. "This product also provides an opportunity for DLS to leverage the expertise of our parent company, TSC Auto ID Technology and the acquisition of Printronix Auto ID. By combining our expertise in the production of thermal and pressure sensitive labels with Printronix Auto ID RFID experience, we are able to provide reliable, high-performance RFID labels to our distributors."
DLS is working closely with TSC Printronix Auto ID's RFID Printer and Label Validation Lab in rolling out this new offering, leveraging both their industry and technical expertise. Printronix Auto ID, the enterprise series within the TSC Auto ID portfolio, is comprised of a comprehensive selection of industry-leading, high performance RFID printer/encoders.
A wholly owned subsidiary of TSC Auto ID Technology Co. Ltd., DLS has been a preferred B2B supplier of high-quality, custom-printed pressure sensitive labels since 1985. All products, from blank labels to full color high-definition labels, are produced utilizing the latest in flexographic and digital printing technologies. Exemplar of their motto "We only succeed when you do," DLS's dedicated team is passionate about labels and is willing to share their expertise with partnered distributors to help them grow their business. With locations in five states and headquartered in Itasca, Illinois, DLS is well-situated to offer products to distributor customers nationwide. To learn more about the dedicated team at DLS, its exceptional offerings and services, or to receive a quote in 3 hours or less, please visit teamdls.com or call 800.397.3013.