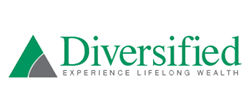 Visitors can easily stay informed about the latest Diversified news and industry updates through the newly expanded and updated frequently blog
WILMINGTON, Del. (PRWEB) November 29, 2018
Diversified, LLC, a leading financial advisory firm serving clients throughout Delaware, Pennsylvania, New Jersey, and Maryland, is inviting visitors to explore its newly-released website at http://lifelongadvisors.com/. The new site has been designed to offer the ultimate user-friendly experience with improved navigation and valuable, easily-accessible information.
The new website features enhanced content focused on the firm's mission to deliver tailored financial guidance that effectively responds to the needs of busy clients. Highlights include:

Comprehensive sections detailing financial solutions for executives, professionals, and current and future retirees are highlighted so clients and visitors can easily locate the most personally relevant information.
Visitors can easily stay informed about the latest Diversified news and industry updates through the newly expanded and updated frequently blog section. These blogs contain a broad range of useful online content, such as advice regarding lifelong financial planning, retirement preparation, investment planning, and new service offerings. Videos, corporate milestones, events, and press releases will also be featured.
The comprehensive Resources section now includes an array of valuable reference material, such as checklists, whitepapers, videos, webinars, and three helpful new e-books.
The team at Diversified is excited to share their online evolution with the public. Clients and visitors are encouraged to check out the new website and share their feedback, questions, and comments.
About Diversified, LLC: Located in Wilmington, Delaware, Diversified focuses on helping busy executives, working professionals, and pre-and post-retirees looking to make the most of their assets and realize lifelong wealth. Since its inception, the firm's knowledgeable advisors have applied a highly personalized, consultative approach to helping clients achieve their financial goals. For more information about Diversified, please visit the website at http://lifelongadvisors.com/ or call 302.765.3500.