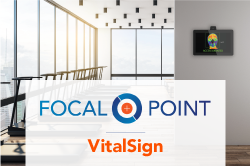 VitalSign is designed to protect what's most important—the safety of our people.
KENILWORTH, N.J. (PRWEB) April 23, 2020
Diversified, a leading global technology solutions provider, proudly announces the debut of their new public safety enhancing digital signage solution, FocalPoint - VitalSign. In today's global climate, the company saw a need to provide first-level assurance to facilities operators whenever large groups of people assemble and potentially interact. The solution provides an initial layer of screening protection by detecting anyone with an elevated temperature from three feet away and within one second.
Powered by Aurora, VitalSign is an extension of FocalPoint, Diversified's exclusive digital signage as a service (DSaaS) offering. Available as either a freestanding or wall-mounted kiosk, VitalSign leverages infrared temperature sensors and advanced algorithms to calculate heat signatures, providing an alert when someone with a high temperature is detected. Based on trusted German technology, the sensors measure with a tolerance of +/- 0.5 degrees Celsius (+/- 0.9 degrees Fahrenheit), without any compromises to accuracy for the enhanced non-touch hygienics.
"The sensors quickly and easily provide highly accurate temperature readings for individuals within range," says Paul Harris, CEO, Aurora Multimedia. "Given the unprecedented societal impacts experienced lately, we want to do our part to help the world get back to the new norm as soon as possible."
As the newest addition to FocalPoint, VitalSign is helping to reassure people of the health and safety of everyone around them and promoting safety in a socially distanced society.
"VitalSign is designed to protect what's most important—the safety of our people," says John Melillo, senior vice president of Diversified's Digital Media Group specialty. "In today's health climate, whether placed at an office or hospital entrance, a gym or an airport, these visual temperature readings not only help keep the public safe but can also lessen the mental and emotional burden of those inside."
Reduce risk and help our economy get back to work with VitalSign >
About Diversified
Diversified is a leading global technology solutions provider delivering a comprehensive suite of solutions connecting today's enterprises to the global marketplace. Our expansive team of industry experts partners with a diverse clientele, helping them achieve higher performance levels, enhance their operations, increase productivity and drive ROI. Learn more at http://www.diversifiedus.com.