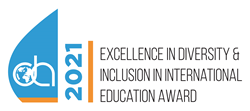 BERKELEY, Calif. (PRWEB) October 28, 2021
Diversity Abroad is pleased to announce the recipients of the 2021 Excellence in Diversity & Inclusion in International Education (EDIIE) and Global Student Leadership Awards. This year's recipients have demonstrated a commitment to advancing diversity and inclusive excellence within international education on an individual, institutional, and organizational level, as well as students who represent Diversity Abroad's mission to diversify global education.
"Through the EDIIE Awards, Diversity Abroad recognizes the institutions, organizations and individuals who are addressing educational inequities and striving to advance diversity, equity and inclusion in the field of global education. We congratulate the 2021 EDIIE Award recipients for their work to democratize global education and ultimately unlock the doors of opportunity for the students they serve," says Andrew Gordon, CEO & Founder of Diversity Abroad.
The awardees and their work were recognized during the annual Awards Gala & Dinner at Global Inclusion 2021, the 9th Annual Diversity Abroad Conference.
ABOUT THE EXCELLENCE IN DIVERSITY & INCLUSION IN INTERNATIONAL EDUCATION (EDIIE) AWARDS
Through the Excellence in Diversity & Inclusion in International Education Awards, Diversity Abroad celebrates outstanding institutions, organizations, individuals, and students who exemplify the vision and ideals of Diversity Abroad to support diversity & inclusive excellence in global education. The awardees have developed innovative practices, conducted original research, and championed inclusive excellence, all with an aim toward preparing diverse and underrepresented students for success through equitable access to global education and cultural exchange opportunities. The awards are divided into Institutional/Organizational Awards, Individual Professional Awards, and Student Awards. This year's winners are:
EDIIE INSTITUTIONAL/ORGANIZATIONAL AWARDS:
Organizational/Institutional Champion: Miami University
Outreach, Marketing & Recruitment: Texas A&M Education Abroad
Student Engagement & Support: Baylor University
EDIIE INDIVIDUAL AWARDS:
Executive Leadership Award: Dr. David Kwabena Wilson, Morgan State University
Rising Star (2-10 years experience): Hernando Sevilla-Garcia, IES Abroad
GLOBAL STUDENT LEADERSHIP AWARD:
Graduate Student: Yi Xuen Tay, University of Nebraska Lincoln
Undergraduate Student: Alessandra Cipriani-Detres, University of Utah
Full details about each recipient and student award winners are available at https://conference.diversitynetwork.org/awards-gala/
ABOUT DIVERSITY ABROAD:
Diversity Abroad is the leading membership organization that inspires and supports educators, policy makers, industry professionals and other stakeholders in leveraging global educational programs to support the academic success, interpersonal development and career readiness of students from diverse and underrepresented backgrounds.