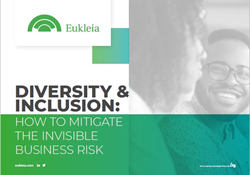 LONDON (PRWEB) November 07, 2019
Eukleia, a specialist in Governance, Risk Management and Compliance (GRC) training, has published a new ebook, which outlines the hidden risks caused by a lack of diversity in the workplace. Titled 'Diversity & Inclusion: How to mitigate the invisible business risk' and now available to download, the guest-authored ebook focuses on five key stages in the employee life cycle, delving deeper into how you can build a diverse working culture that will mitigate the risks of institutional blindness and future-proof your organisation.
The ebook is authored by Diversity and Inclusion expert, Joanna Abeyie, who has over 12 years' experience helping companies build inclusive workforces. London-based consultant Joanna is a Non-Executive Director for Investors in People, a Trustee for The Lord Mayor's Appeal and the first and only black person to be made a Trustee and Director of The Media Society.
Joanna draws on her vast experience as a diversity champion, and as founder and CEO of Blue Moon, a Diversity and Inclusion Consultant Practice, to highlight:

The hidden business risks caused by a lack of diversity
The changing face of the modern workforce
What we mean by diversity, inclusion and equality in the workplace
How to build inclusive business processes
How to embed inclusivity into the heart of a working culture
"In our ebook, we explain how a lack of diversity in the workforce presents business risks that often go unnoticed until it is too late," said Joanna Abeyie. "Understanding the diversity of your customers helps you consider who you need to represent. Institutional blindness poses a significant risk that is often overlooked by business leaders. Yet the benefits of getting it right are also hugely significant.
"Throughout my time as an inclusive recruitment consultant, I've repeatedly seen businesses struggle to attract, recruit, retain and promote a diverse workforce. These are critical stages in the employee life cycle, and by reviewing the processes at these points, you can build a working culture that has diversity and inclusion at its heart."
Added Sue West, Eukleia's Client Service Director, "Building a diverse and inclusive working culture is essential for any modern business that wants to attract and retain the best staff. Having a diverse range of backgrounds feeding into decision-making processes offers a competitive advantage, but also mitigates a number of significant risks. This ebook focuses on providing practical tips that can help build an inclusive company culture."
Download a copy of Eukleia's ebook, 'Diversity & Inclusion: How to mitigate the invisible business risk'.
About Eukleia
Eukleia was first established in 2005, and has gone from strength to strength as a specialist Governance, Risk Management and Compliance (GRC) training consultancy ever since. Eukleia has offices in both London and New York, catering to an international clientele, including many of the world's leading banks.
Our capabilities cover all aspects of training, from initial course design through to delivery and assessment. As part of Learning Technologies Group plc, we create engaging and accessible learning, partnering with our sister companies where appropriate to offer a wide variety of training solutions, including classroom training, e-learning courses, videos and games.
For more, visit eukleia.com.