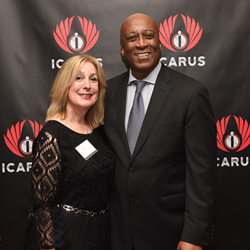 Partnerships make organizations stronger. Icarus Consulting shares our vision for creating equitable workplaces where every employee feels a sense of belonging -Cathy Light, Founder and CEO, DiversityEquityInclusion.com
PALO ALTO, Calif. (PRWEB) August 19, 2020
DiversityEquityInclusion.com is driving change through diversity, equity, and inclusion (DEI) workplace leadership education and DEInamics™, a solution that measures organizational DEI with quantifiable metrics and meaningful analytics. Icarus Consulting is a strategic partner of DiversityEquityInclusion.com. The firm recently added the Diversity Collection, three online learning programs: Embracing Diversity, Leading with Diversity, and Winning Teams Win, as well as the DEInamics solution to its portfolio of offerings.
Research demonstrates that DEI directly impacts revenue-generating business models. Boston Consulting Group surveyed corporations of different sizes from varying industries across eight countries and found that diversity increases the bottom line for businesses. Contrast that with the reality that, in 2019, the U.S. Equal Employment Opportunity Commission reported 72,675 charges of workplace discrimination. This represents not only a DEI and corporate culture issue, but also presents a significant financial risk; altogether, the costs of voluntary resolutions and litigation against private and public employers totaled hundreds of millions of dollars. Beyond both the positive and negative financial ramifications, current events highlight the need for organizations to commit to equity – talk will no longer suffice; it's time for action.
"Partnerships make organizations stronger. Icarus Consulting shares our vision for creating equitable workplaces where every employee feels a sense of belonging," says Cathy Light, Founder and CEO, DiversityEquityInclusion.com. "We're so excited to partner with Dr. Goode and Icarus Consulting. Our diversity Collection and DEInamics solution help him transform workplace cultures, and his wealth of experience and expertise help inform our offerings. Together we are making positive strides toward a better tomorrow."
DEI are benchmarks of an organization's health, capacity to lead, and commitment to both employees and customers. DEInamics identifies barriers around DEI and supports the implementation of programs that make an intentional and collective impact. Organizations with a DEI mandate can eliminate guesswork, leverage data to highlight where improvements can be made, and ignite change by adopting appropriate best practices. As education is the most powerful means to transform ourselves and our world, the Diversity Collection complements the analytics tool. Each program focuses on a core aspect of building a cohesive workplace culture where every employee, regardless of race, sex, gender, orientation, ableness, or economic background, feels a sense of not only belonging but opportunity.
"Research has repeatedly shown that the presence of diversity across all levels of an enterprise increases performance and revenue. Yet, many organizations are still wrestling with how to create a culture of inclusivity and reap the rewards that diversity offers," says Dr. Goode. "The Diversity Collection and DEInamics are instruments that can help facilitate real change. Icarus Consulting is excited to partner with DiversityEquityInclusion.com, and we look forward to leveraging our combined experience to advance and accelerate our shared vision."
DEI is in the headlines more than ever. In response, organizations of all sizes and across all industries face demands that they become truly diverse and inclusive. In response, DiversityEquityInclusion.com will continue to expand its partnerships and offerings.
To learn more about DEInamics, the advanced data analytics tool that identifies barriers to DEI and provides comparison data to help guide actions for achieving intentional and collective impact, visit https://diversityequityinclusion.com/deinamics/.
To learn more about the Diversity Collection, the online diversity, equity, and inclusion learning program, follow this link: https://diversityequityinclusion.com/online-learning/
Diversity Equity Inclusion (http://www.diversityequityinclusion.com), a division of Liderança Group, has over 25 years of consulting experience and specializes in the unique team-building challenges that modern companies face. With a track record of proven capabilities in Fortune 100, 300, and 500 companies, they are committed to making the world better– one workplace at a time. DEInamics™, a new-to-market, Azure-powered solution that leverages data analytics to promote meaningful change in organizational diversity, equity, and inclusion, was chosen for Microsoft's #BuildFor2030 campaign for its advancement of the United Nation's Sustainable Development Goal of Gender Equality.
Icarus Consulting is a veteran-owned consulting firm specializing in helping organizations create inclusive cultures that leverage diversity and inclusion for a competitive advantage. Icarus Consulting accomplishes this by developing strategies which enable their clients to attract, develop, and retain highly skilled talent from an emerging diverse workforce and, at the same time, enhance the engagement, knowledge, and skill of current employees.
#########
The names of actual companies and products mentioned herein may be the trademarks of their respective owners.
For more information, press only:
Amy Roberts, Mercer-MacKay Digital Storytelling, amy.roberts@mercermackay.com