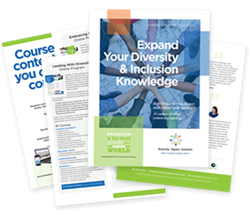 PALO ALTO, Calif. (PRWEB) August 11, 2020
DiversityEquityInclusion.com has created a comprehensive, complimentary eJournal to augment the first of its three online learning platforms, with an aim to take leaders deeper into identifying, navigating, and overcoming unconscious bias to drive real organizational change. Diversity, equity, inclusion, and belonging are in the headlines more than ever. In response, organizations of all sizes and across all industries face demands that they become truly diverse and inclusive. Employees want to see a commitment to equity – talk will no longer suffice; it's time for action.
Organizational leaders, or those who aspire to leadership roles, often want to facilitate change but are unsure how. Education is the most powerful tool to transform ourselves and our world. That is why Diversity Equity Inclusion created three online learning programs: Embracing Diversity, Leading with Diversity, and Winning Teams Win. Each program focuses on a core aspect of building a cohesive workplace culture where every employee, regardless of race, sex, gender, orientation, ableness, or economic background, feels a sense of not only belonging but opportunity. A primary component of becoming a diverse, equitable, and inclusive leader is reflecting on and challenging core beliefs and biased frameworks that one may have (whether or not aware of them). For this reason, Diversity Equity Inclusion broadened its first educational program, Embracing Diversity, with an eJournal that prompts self-development and reflection.
"People who have driven change on a global scale – Deepak Chopra, Oprah Winfrey, Arianna Huffington, Tony Robbins – all attribute substantial positive change to journaling," says Cathy Light, Founder and CEO, Diversity Equity Inclusion. "Beyond the space and time it allows for self-reflection, which is beneficial in itself, journaling is proven to advance problem-solving, awareness, and crisis resolution. It promotes metacognition, thinking about one's thinking, which is why you become more aware of your thoughts and what they're trying to tell you when you write them down. With the right guidance and prompts, journaling can be a powerful tool for change because it helps you face uncomfortable truths that, more than likely, you are unaware of."
Looking inward in an honest manner and questioning what one knows, believes, and values is hard and uncomfortable work. Journaling is such a powerful tool because it helps people face "overwhelming emotions," according to The University of Rochester Medical Center researchers, and promotes healing. According to The Chopra Center, "acknowledging and confronting difficult emotions allows the healing process to begin." And that healing goes beyond a single person to translate across organizations.
As Maud Purcell LCSW, CEAP, describes, "the act of writing accesses your left brain, which is analytical and rational. While your left brain is occupied, your right brain is free to create, intuit, and feel. In sum, writing removes mental blocks and allows you to use all of your brainpower to better understand yourself, others, and the world around you."
In addition to these benefits, journaling allows individuals to track patterns, trends, and progress. When situations appear insurmountable, or a person feels stalled in their development, they can look back on previous dilemmas that have since been resolved or see how far they've already come. As Oprah Winfrey says of journaling, "It's astonishing to be able to track your own evolution – who I was, who I'm still becoming."
To learn more about Embracing Diversity, the online diversity, equity, and inclusion learning program, and the free journal, follow this link: https://diversityequityinclusion.com/online-learning/
Diversity Equity Inclusion (http://www.diversityequityinclusion.com), a division of Liderança Group, has over 25 years of consulting experience and specializes in the unique team-building challenges that modern companies face. With a track record of proven capabilities in Fortune 100, 300, and 500 companies, they are committed to making the world better– one workplace at a time. DEInamics™, a new-to-market, Azure-powered solution that leverages data analytics to promote meaningful change in organizational diversity, equity, and inclusion, was chosen for Microsoft's #BuildFor2030 campaign for its advancement of the United Nation's Sustainable Development Goal of Gender Equality.
The names of actual companies and products mentioned herein may be the trademarks of their respective owners.
For more information, press only:
Amy Roberts, Mercer-MacKay Digital Storytelling, amy.roberts@mercermackay.com