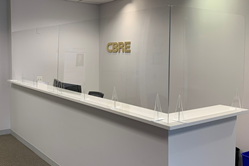 SCHAUMBURG, Ill. (PRWEB) September 02, 2020
Divine Signs and Graphics is a sign company based out of Schaumburg, IL that specializes in creating indoor and outdoor signs, banners, monument signs, vehicle wraps, and more. They have recently begun designing, fabricating, and installing custom acrylic protection panels to help businesses who are open or re-opening during the COVID-19 pandemic. These acrylic panels will help businesses promote social distancing within their building and prevent the spread of harmful pathogens such as the coronavirus.
Social Distancing Signs to Help Businesses Re-Open
As businesses continue to re-open during the pandemic, they need to follow certain requirements to keep employees and visitors protected. The acrylic panels fabricated and installed by Divine Signs and Graphics help businesses meet these requirements to ensure protection and social distancing. The staff of Divine Signs and Graphics works with businesses to assess their needs and fabricate acrylic protection panels that suit their space. The acrylic panels will help reduce the spread of germs and bacteria to protect against infectious diseases.
In addition to the acrylic protection panels, Divine Signs and Graphics helps businesses stay safe with additional COVID-19 signage such as floor panels and graphics, acrylic signs, banners, elevator floor graphics, and others to promote safety and social distancing. Their design can be customized to reflect the branding including the colors and logo of a company.
About Divine Signs and Graphics
Divine Signs and Graphics designs and installs custom signs for businesses in Schaumburg, IL and the surrounding areas of the Chicago suburbs. The sign company offers a wide variety of signage including interior and lobby signs, exterior signs, ADA signs, banners, vehicle wraps, wall wraps, tradeshow displays, and much more.
Their designers work directly with businesses to help develop their idea and create a design that incorporates the font, colors, and branding for their company. Their professional installers will ensure the completed signs are installed and displayed properly.
Contact Us
Visit https://divinesignsinc.com or call (847) 534-9220 to learn more about this sign company.