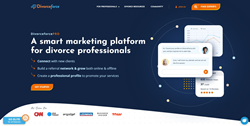 NEW YORK (PRWEB) April 13, 2021
Creative digital agency Digital Silk recently launched a web project for DivorceForce – an online community that supports people through all stages of divorce by facilitating connections with experts in relevant professions.
The new web landing page for DivorceForcePRO was designed to introduce divorce professionals to DivorceForcePRO, a smart marketing platform that helps them connect with new clients; build referral networks online & offline; and create a robust solution for publishing content, video, and other features to promote their services.
With 10,000,000+ divorce-related web searches per month, DivorceForcePRO is a complete solution to connect those people affected by divorce with matrimonial lawyers, wealth advisors, realtors, mortgage & banking agents, accountants, mental health professionals, divorce coaches, and others.
Inspired by DivorceForce's purpose and brand identity, Digital Silk delivered a modern and engaging webpage that outlines the platform's benefits and details the pricing plans.
From the digital strategy to design and development, the agency followed industry best practices and in-house methodologies to deliver a conversion-based journey with focused messaging and on-site SEO optimization.
Digital Strategist at Digital Silk Cristina Ana said:
"The whole team enjoyed working with the DivorceForce team to clearly present the platform's value proposition to its target audience. We're excited to continue this collaboration and help DivorceForcePRO grow their brand online as well as increase their presence in the marketplace."
"The challenge we wanted to overcome was explaining the many value propositions of our SaaS product, DivorceForcePRO, to our audience of busy professionals in a timely and concise manner," said Gregory C. Frank, CEO & Founder of DivorceForce. "Digital Silk clearly hit it out of the park on this assignment, and we are looking forward to their expert strategy and execution on other marketing initiatives."
About Digital Silk:
Digital Silk is a creative digital agency focused on growing brands online. From custom websites to digital marketing, Digital Silk creates superior digital experiences to drive higher conversions, greater brand engagement & measurable results.
About DivorceForce:
DivorceForce provides a safe and supportive community designed to assist those affected as they navigate through each stage of divorce by facilitating connections with experts in relevant professions.
For inquiries, please contact Gregory C. Frank, CEO, at gf@divorceforce.com