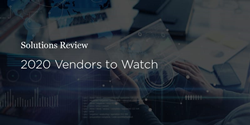 "We are thrilled to be named as one of Solutions Review's Top 5 Data Integration Vendors To Watch In 2020! " - Sanjay Vyas, CEO of Diyotta
CHARLOTTE, N.C. (PRWEB) January 28, 2020
Diyotta, Inc., an enterprise-class, data integration platform for modern data environments, was recognized as one of the top 5 data integration vendors to watch in 2020 list released by Solutions Review, one of the top global technology analyst firms.
"Solutions Review's Data Integration Tools Vendors to Watch is an annual listing of solution providers we believe are worth monitoring. Companies are commonly included if they demonstrate a product roadmap aligning with our meta-analysis of the marketplace. Other criteria include recent and significant funding, talent acquisition, a disruptive or innovative new technology or product, or inclusion in a major analyst publication. Solutions Review's annual Vendors to Watch highlights the software providers in each technology category that are worth special consideration for prospective buyers" said Timothy King, Senior Editor at Solutions Review.
"We are thrilled to receive this recognition from Solutions Review, Diyotta is continuously improving our platform to support modern data integration needs so that our customers can expand and build their cloud data lake and data warehouse systems quickly and efficiently on cloud, on-premise and hybrid environments," stated Sanjay Vyas, CEO of Diyotta. "As data has become more complex and distributed across multiple on-premises and cloud environments, it has become more important to our enterprise customers that we take the pain out of their data lake and data warehouse implementations. By making Diyotta's platform available on public clouds, our customers will be able to take advantage of our solution with greater ease, more efficiency and familiarity, and with lower migration costs."
About Diyotta, Inc.
Diyotta delivers trusted data fast. An enterprise-class, serverless data integration platform, Diyotta connects quickly and securely to diverse data sources and delivers massive volumes of data to target systems across cloud, multi-cloud, and on-premises environments. It is the first data integration solution to leverage the transformative power of modern data processing platforms, including Snowflake, Google BigQuery, Amazon Redshift, and others. Organizations such as Sprint, Scotiabank, Canadian Tire, Cox Automotive and Techstyle Fashion Group rely on Diyotta's technology. To learn more about Diyotta and its solutions, visit http://www.diyotta.com.
About Solutions Review
Solutions Review is a collection of technology news sites that aggregates, curates, and creates the best content within leading technology categories. Solutions Review's mission is to connect buyers of enterprise technology with the best solution sellers. Since 2012, Solutions Review has launched dozens of technology buyer's guide sites in categories ranging from cybersecurity to wireless 802.11, as well as mobility management, business intelligence and data analytics, data integration, enterprise cloud, human resources, and marketing automation and CRM. For more information about Solutions Review, visit https://solutionsreview.com/