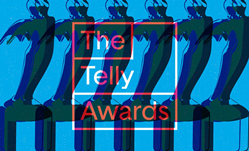 "We are humbled by these prestigious awards and would like to thank our amazing participants, whom without, this would not be possible."
JUPITER, Fla. (PRWEB) May 29, 2020
This year, the Telly Awards presents DMG Productions with two awards – one silver and one bronze.
Marking its 41st anniversary as the world's largest honor for video and television content across all screens, The Telly Awards announced this year's winners, which included a silver and bronze award for two segments that were created and produced by DMG Productions.
As the premier award honoring outstanding local, regional, and cable TV programs, and the finest video and film productions; winners represent the best work from the most respected production companies, television stations, cable operators, and corporate video departments in the world.
The Telly Awards honors video and television made for all screens and is judged by The Telly Award Judging Council; a group of leading video and television experts from some of the most prestigious companies in entertainment, publishing, advertising, and emerging technology.
This year, DMG Productions is a Silver Telly Winner, under the Social Responsibility Television category, for a segment it created and produced, which highlighted innovative solutions for soldiers and featured Colorado-based Warfighter Hemp. [Click here for the official listing or here to watch the video.]
DMG Productions and the Advancements series (which is hosted by Ted Danson) also received a Bronze Telly Award under the Public Interest/Awareness category for an educational segment that featured the work being performed by the Minnesota Soybean Research and Promotion Council, which taught viewers about its dedication to using research, education, and environmentally friendly methods to help farmers increase yields and improve profits. [Click here for the official listing or here to watch the video.]
"DMG Productions is honored to be recognized again this year for its hard work and dedication in producing educational television content," said Chad Densen, production manager for DMG Productions and the Advancements series. "We are humbled by these prestigious awards and would like to thank our amazing participants, whom without, this would not be possible."
About DMG Productions and Advancements:
Backed by experts in various fields, DMG Productions is dedicated to education and advancement, and to consistently producing commercial-free, educational programming on which both viewers and networks depend.
The Advancements series is an information-based educational show targeting recent advances across a number of industries and economies. Featuring state-of-the-art solutions and important issues facing today's consumers and business professionals, Advancements focuses on cutting-edge developments and brings this information to the public with the vision to enlighten about how technology and innovation continue to transform our world.
For more information visit: http://www.dmgproductions.org.