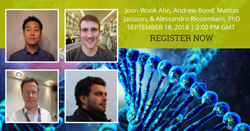 YORBA LINDA, Calif. (PRWEB) August 24, 2018
Next-Generation Sequencing (NGS) has become an essential tool in clinical diagnostic laboratories. However, this technology introduces many well-described challenges around data processing, storage and analysis. Viapath is based at Guy's Hospital London, which leads the South London NHS Genomic Medicine Centre. The Viapath Genetics Laboratories have implemented automated, scalable, and cost-effective clinical bioinformatics pipelines in the cloud.
The DNAnexus Platform is used to run clinical-grade workflows in line with AMP and CAP consensus recommendations for NGS bioinformatics pipelines. Viapath leverages DNAnexus to analyze exomes for pediatric developmental disorders and an amplicon panel for assessing EGFR in lung cancer, all of which are ISO15189-accredited.
These automated and scalable workflows perform secondary bioinformatics analysis, generating a variant call file (VCF) which is then passed directly into QIAGEN Ingenuity Variant Analysis (IVA) for genomic interpretation. IVA takes advantage of the Qiagen Knowledge Base to enable systematic filtering, prioritization, and analysis of variants, including automated ACMG classification.
The DNAnexus Platform is also used to manage data, which is archived for long-term storage using Amazon Glacier; this provides a low-cost and resilient solution.
In this webinar, participants will learn about the advantages of the DNAnexus and IVA platforms, as well as how to develop processes for building DNAnexus apps and workflows. They will learn best practices for automating pipelines from sequencer to analysis and hear how to interpret exome variants.
The team from Viapath's Genetics Laboratory will be the speakers for this event, including Joo Wook Ahn (Genome Informatics Lead), Andrew Bond (Clinical Bioinformatician) and Mattias Jansson (Clinical Scientist). Dr. Alessandro Riccombeni, European Science Lead at DNAnexus will moderate the webinar.
LabRoots will host this webinar September 18, 2018, beginning at 7 a.m. PDT, 2 p.m. GMT. To learn more about this event, discover the continuing education credits offered, or to register for free, click here.
About Viapath
Viapath is the UK's largest independent pathology service provider, founded in 2009 by Guy's and St Thomas' NHS Foundation Trust. Viapath's primary focus is to deliver world-class pathology services to patients through clinical and scientific collaboration. Viapath invest in innovation by driving sustainable growth. To that end, Viapath continues to grow pathology centres of excellence and by developing economies of scale, remains a low-cost pathology provider.
About QIAGEN
QIAGEN N.V., a Netherlands-based holding company, is the leading global provider of Sample to Insight solutions that enable customers to gain valuable molecular insights from samples containing the building blocks of life. Our sample technologies isolate and process DNA, RNA and proteins from blood, tissue and other materials. Assay technologies make these biomolecules visible and ready for analysis. Bioinformatics software and knowledge bases interpret data to report relevant, actionable insights. Automation solutions tie these together in seamless and cost-effective workflows. QIAGEN provides solutions to more than 500,000 customers around the world in Molecular Diagnostics (human healthcare), Applied Testing (primarily forensics), Pharma (pharma and biotech companies) and Academia (life sciences research). As of June 30, 2018, QIAGEN employed approximately 4,800 people in over 35 locations worldwide. Further information can be found at http://www.qiagen.com.
About DNAnexus
DNAnexus, the global leader in biomedical informatics and data management, has created the global network for genomics and other biomedical data, operating in North America, Europe, Asia-Pacific (including China), South America, and Africa. The secure, scalable, and collaborative DNAnexus Platform helps thousands of researchers across a spectrum of industries – biopharmaceutical, bio-agricultural, sequencing services, clinical diagnostics, government, and research consortia – accelerate their genomics programs globally. For more information on DNAnexus, please visit http://www.dnanexus.com or follow the company @DNAnexus.
About LabRoots
LabRoots is the leading scientific social networking website, which provides daily scientific trending news and science-themed apparel, as well as produces educational virtual events and webinars, on the latest discoveries and advancements in science. Contributing to the advancement of science through content sharing capabilities, LabRoots is a powerful advocate in amplifying global networks and communities. Founded in 2008, LabRoots emphasizes digital innovation in scientific collaboration and learning, and is a primary source for current scientific news, webinars, virtual conferences, and more. LabRoots has grown into the world's largest series of virtual events within the Life Sciences and Clinical Diagnostics community.