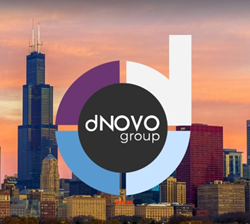 An Evolution of Over A Decade of Experience in Digital Marketing Field
TORONTO (PRWEB) December 09, 2019
A "new" agency - dNovo Group is a Turnkey Digital Marketing Agency that takes a holistic approach to the integrated digital needs of small and medium businesses in Canada and the United States. The dNovo team manages their impressive portfolio of clients from their offices in Chicago and Toronto.
The company aims at increasing their market share in digital marketing for legal practices, however the creative team of digital marketeers possesses a large portfolio of clients in medical, dental and home improvement sectors.
Shamil Shamilov, entrepreneur and founder of the dNovo Group, has gained years of digital marketing experience while at the helm of Nova Solutions and Nova Medical 360. He helped to grow the company and its subsidiary into one of the better-known digital marketing agencies in Canada. It is also one of the oldest, with nearly 15 years on the market.
Building on the expertise he developed at Nova Solutions, Mr. Shamilov has created a new customer-centric, digital marketing agency with an impressive portfolio of customers in the legal, medical and home improvement sectors. dNovo's differentiating feature is its turn key, concierge style digital marketing solutions with the main focus on the customer. That means that the dNovo team is always available, incorporating their specialist knowledge of digital marketing solutions with the business knowledge of the client team. Our aim is to fully understand the client's business goals and ambitions and then to offer the best digital marketing strategy to meet those goals.
The dNovo Group is proud of its association with some of the leading legal firms in Canada and the United States. These include firms specializing in personal injury, immigration and employment law. The dNovo business is not, however, limited to the legal industry. Their association with Mike Holmes, famous for the television shows, "Make it Right" and "Holmes on Holmes" from the home improvement sector demonstrates their versatility in this regard. Mr Shamilov is keen to market the turnkey digital marketing approach to any business with an uncompromising need to grow.
Current company portfolio further includes medical professionals, dentists, accommodation industry and ecommerce clientele.
A 360° view of your business
dNovo offers the businessman a unique 360° view of every aspect of their business, allowing for a cohesive and fully integrated digital marketing strategy. Theirs is an award-winning product. It is aimed at optimizing conversions and retaining customers through beautiful, customized websites, SEO optimized content, and engaging video footage.
This, combined with a captivating social media strategy, is focused on fast tracking visitors to the business website. Increased traffic is accomplished through improved organic and paid search results.
At Nova Solutions, one of the best known and oldest digital marketing agents in Toronto, Mr. Shamilov has for years provided individual digital marketing services to customers throughout the country. Mr Shamilov has then further taken the experience gained in over a decade at Nova Solutions to develop dNovo Group. From this he has created an integrated, detail oriented and customer focused solution to digital marketing. dNovo combines the best practices and business principles gained over the years, with a close knit team of marketing professionals into a turnkey digital solution.
The creative team at the dNovo Group strive to help businesses to leverage every aspect of the digital marketing environment. They aim to design a marketing plan that supports the over-arching business objectives. The main purpose of the Group is driving brand awareness and creating a memorable online experience that will keep attracting new customers to the website.
Rather than insisting on lengthy contracts the dNovo Group is happy to run a month on month agreement, confident in the knowledge that their customers will keep coming back. The integrated approach to digital marketing keeps growing the business, ensuring returns on investment that excite any business owner.
LinkedIn: https://www.linkedin.com/company/dnovo-group-medical-practice-and-law-firm-marketing/