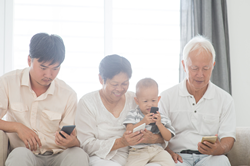 GREENSBORO, N.C. (PRWEB) July 30, 2020
You can't teach an old dog new tricks; or can you? Why is it that we've created a negative stigma around memory? We assume that as we age, our memory worsens, but it doesn't mean we can't give it a little extra love. There are still ways to aid in keeping your memory sharp, no matter your age. Can memory game apps provide any benefit when it comes to improving a person's memory? Before we jump into that, let's take a look into what memory is all about.
Memory is referred to as "the processes that are used to acquire, store, retain and later retrieve information" and can be broken down into the three different processes of encoding, storage and retrieval. As we all know, some of our memories are not flawless. Whether it's forgetting where you left your phone or misremembering specific experiences, our memories are not always properly encoded. In order to form memories, our brains must change information into a useable form that happens during encoding. Once it's done encoding, it can then be stored. Lastly, the retrieval process happens when we bring back our stored memories into awareness, also known as remembering. Seems pretty simple, right?
Memory can also be broken down into three stages/types: sensory memory, short-term memory and long-term memory. Sensory memory is the briefest form of memory and the first stage of memory. It's when our brains store information about our environment for a brief period of time — typically no longer than half a second for visuals and three to four seconds for auditory. This then turns into short-term memory where the information we are thinking about at the moment is stored for only about 20 to 30 seconds. For example, if you can't find your car keys even though you had them in your hand a minute ago, that may be because there was a problem with that short-term memory. While short-lived, this brief interaction with that information allows it to move to the last stage of long-term memory. This is where information may not be within our initial awareness, but we can call it into our working memory when we want to. These are memories we hold on to, such as our childhood memories or memories with our loved ones.
So, what happens to our memory when we age? According to Harvard Health, "scientists now see the brain as continuously changing and developing across the entire life span; there is no period in life when the brain and its functions just hold steady. Some cognitive functions become weaker with age, while others actually improve." For example, some areas of the brain such as the hippocampus will shrink, causing the receptors on the surface of neurons to worsen in function, affecting your ability to both encode and retrieve information. But that doesn't mean that as you age your brain deteriorates. Harvard Health also discussed how the "connections between distant brain areas strengthen" meaning that as we age, we are better at capturing the "big picture" and "understanding the global implications of specific issues." This means that while as we age, we may not get better at remembering the specific details, we are better at remembering larger concepts.
Now, what can we do to help keep our memory sharp? And, can memory game apps play a role? Let's see what science has to say.
1. 2013–2014: Enhancing Cognitive Abilities Using Luminosity vs. Crossword Puzzles
This Lumos Labs Inc. study showed that people who did 15 minutes of brain training activities with Luminosity, an online cognitive training program, at least five days a week had improvements in brain function. For example, they showed greater improvements than the control group in processing speed, short-term memory, working memory, problem solving and fluid reasoning assessments. It also showed that brain training provided more value than more traditional exercises such as crossword puzzles.
2. 2015–2016: Brain Training Games vs. No Training
In this study, there were similar results, such as a "statistically significant" difference in those who used brain training apps such as Luminosity. For example, those who participated in the brain training with Luminosity showed improvement in attention and motor speed, whereas the control group that did not participate in any type of brain training showed no significant improvements.
3. 2019: Brain Training Apps and Concentration
One example of a more recent app is Decoder. Developed in 2019, study examined the app using the CANTAB Rapid Visual Information Processing test (RVP), a test that is highly sensitive in measuring attention/concentration. The results of the study showed that the participants who played Decoder improved in both focus and attention.
There are, however, always two sides to a story. We should also mention that some may argue that brain training apps and websites do not prove as beneficial as advertised. It seems that the topic is divisive for some, so it's always important to keep up with all sides. For example, science and technology are evolving at a rapid pace, so as time goes by it's likely that we will find more up to date studies as well as new brain training programs with more promising reviews. It is also important to remember that the research in favor of brain training games may not always be definitive. While some games may train you to excel at the game, it is not always guaranteed that these benefits will translate into day to day tasks such as focus at work or school. Always be sure to check out all sides of the story before determining what will work for you.
So, with that in mind, let's check out some brain-training exercises. This website breaks down six different apps for working memory training and the benefits of each. In addition to the aforementioned Luminosity and Decoder, this up-to-date list of brain games and websites is also a beneficial tool to explore the various types of recommended brain-training games. From apps developed with the help of neuroscientists, such as CogniFit, to apps aiding in memory enhancement, such as Eidetic, there's a brain-training game for you. Go check them out and get your brain to work!
Last but not least, on top of suggesting the use and value of brain-training games for memory, Market America's Director of nutraMetrix® and Clinical Education, Dr. Deedra Mason also suggested many alternatives you can pair with your exercises, containing benefits that may aid in memory. Here are five you can try!

*These statements have not been evaluated by the Food and Drug Administration. This product(s) is not intended to diagnose, treat, cure or prevent any disease.
Market America |SHOP.COM is a global product brokerage and internet marketing company that specializes in one-to-one marketing and is the creator of The Shopping Annuity®.