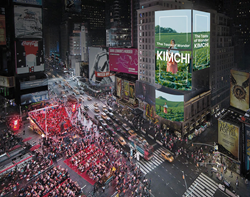 It's great to celebrate Kimchi Day on November 22nd with consumers through various events. We hope that the day will come when kimchi, a healthy food, will be loved by people all around the world, and we will continue to promote actively and positively in the future.
NEW YORK (PRWEB) November 22, 2021
Kimchi Day is an official day established to preserve the kimchi culture under the UNESCO Intangible Heritage of Humanity to promote the value and excellence of kimchi. It was designated as November 22nd to use at least 11 healthy ingredients such as cabbage and radish to have 22 benefits like enhanced immunity and antioxidants when consumed.
As part of the promotion of Kimchi Day, aT Center New York is displaying a large scale billboard ad in the middle of New York Times Square until the end of the year, along with fun consumer-participating online and offline events such as Reposting Event, Shoot & Posting Event and Find Kimchi Man to bring awareness of Kimchi Day.
In particular, the Find Kimchi Man event, which will be held at New York Times Square for only two hours from 4 PM to 6 PM on Kimchi Day, November 22nd is drawing everyone's attention as a unique and fun consumer-participating offline event that combines the worldwide hit Netflix drama, Squid Game and the Times Square Kimchi Billboard advertisement.
In addition, the Kimchi and K-Food promotion video, produced under the concept of The Taste of Wonder, maximizes the taste of kimchi with the sound using ASMR, making consumers feel the taste of fresh and healthy kimchi more realistically.
Shim Hwa-seop, aT Center New York General Manager, said, "It's great to celebrate Kimchi Day on November 22nd with consumers through various events. We hope that the day will come when kimchi, a healthy food, will be loved by people all around the world, and we will continue to promote actively and positively in the future."
Details on Kimchi Day can be found at http://www.atcenteramerica.com