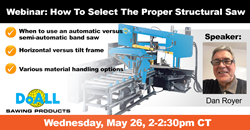 This webinar is designed to train professional and assist them in selecting the proper structural band saw for their application. -Dan Royer, Regional Sales Manager-West Coast Region
SAVAGE, Minn. (PRWEB) May 11, 2021
DoALL Sawing Products announces the sixth webinar in a series covering how to select the proper structural saw.
Learn how to select the appropriate structural saw for your application including:

When to use an automatic versus semi-automatic band saw
Horizontal versus tilt frame
Various material handling options
The webinar will be presented by Dan Royer, DoALL Regional Sales Manager-West Coast Region. Dan is responsible for the Western Region which includes Colorado, Utah, Arizona, Idaho, Montana, Washington, Oregon, Nevada, and California. Dan received his Bachelor of Arts degree in Business Administration from Point Loma Nazarene University in San Diego, CA where he was Student Body President and captain of the baseball team.
Make sure to register for the DoALL May Webinar- How to select the proper structural saw on the DoALL Sawing Products website. Any questions or comments can be submitted prior to the event and will be either addressed during the webinar, or by a product specialist.
The webinar session will be broadcasted on May 26, 2021 at 2 PM Central Time (CT) and will be 30 minutes in length. Register now: http://bit.ly/DoALLMayWebinar2021
DoALL Sawing Products will continue to host a variety of webinars over the upcoming weeks, which will cover other sawing topics, such as blade selection, interrupted cutting, feed rate, feed force, and basic cutting practices.
DoALL Sawing Products was founded in 1927 by Leighton A. Wilkie; who invented and manufactured the first metal cutting band saw in 1933. With over 90 years of manufacturing history in the Minneapolis, MN area, the DoALL brand has been known for innovation from day one. With the most complete line of band saws, blades and fluids in the industry, DoALL offers industrial sawing machines for high production, general-purpose, miter cutting, vertical contour, and custom engineered sawing solutions.