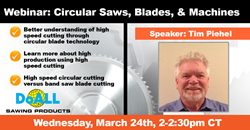 This webinar is designed to train professionals and assist them in understanding high speed cutting through circular blade technology. Tim Piehel, Regional Sales Manager & Sawing Expert
SAVAGE, Minn. (PRWEB) March 17, 2021
DoALL Sawing Products announces the fourth webinar in a series covering circular saws, blades, and machines. This webinar is designed to train professionals to better understand high speed cutting through circular blade technology. Learn the difference between high speed circular cutting versus band saw blade cutting.
The webinar will be presented by Tim Piehel, DoALL Regional Sales Manager. Piehel has over 30 years of experience within DoALL, and has provided solutions for many of the leading manufacturing firms across the globe. Piehel's extensive knowledge will train the audience to learn more about high production using high speed cutting.
Make sure to register for the DoALL Webinar-Circular Saws, Blades, & Machines on the DoALL Sawing Products website. Any questions or comments can be submitted prior to the event and will be either addressed during the webinar, or by a product specialist.
The webinar session will be broadcasted on March 24, 2021 at 2 PM Central Time (CT) and will be 30 minutes in length. Register now: http://bit.ly/doallwebinarmarch242021
DoALL Sawing Products will be hosting a variety webinars over the upcoming weeks, which will cover other sawing topics, such as blade selection, interrupted cutting, feed rate, feed force, and basic cutting practices.
DoALL Sawing Products was founded in 1927 by Leighton A. Wilkie; who invented and manufactured the first metal cutting band saw in 1933. With over 90 years of manufacturing history in the Minneapolis, MN area, the DoALL brand has been known for innovation from day one. With the most complete line of band saws, blades and fluids in the industry, DoALL offers industrial sawing machines for high production, general-purpose, miter cutting, vertical contour, and custom engineered sawing solutions.