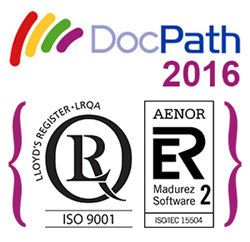 The renewal of the ISO 9001:2008 and ISO/IEC 15504 quality certificates highlights DocPath's continued strive for quality
Atlanta, GA (PRWEB) April 27, 2016
DocPath demonstrates that it continues to maintain high standards in its Quality Management System with the renewal of its ISO 9001:2008 quality certificate this month of April, which follows the renewal of DocPath's ISO/IEC 15504 quality seal last February.
The ISO/IEC standard, also known as SPICE (Software Process Improvement and Capability Determination), was awarded by AENOR, the Spanish Association for Normalization and Certification. It is an official and international quality standard developed with the aim of identifying and improving the processes of any organization. In particular, the ISO/IEC 15504 standard represents a solid framework that provides reference models for correct and detailed assessment and improvement of existing corporate processes.
The quality certificate, first obtained by DocPath in 2013, was renewed after a thorough and comprehensive auditing process of the company´s Software Development area.
The ISO 9001:2008 quality certificate, on the other hand, was awarded by Lloyd´s, one of the major auditing services provider at a global level. The renewed certificate covers all DocPath offices in the USA and Spain and all of its operational areas, from Administration and Finance to Software Development and Customer Service.
The two quality seal renewals undoubtedly highlight DocPath´s sustained efforts and ongoing strive for quality excellence in the design, development and distribution of high-quality document software solutions that meet the current and future business needs of its Clients.
About AENOR
AENOR, the Spanish Association for Normalization and Certification, is a private organization founded in 1986 and aimed at enhancing the quality and strengthening the market position of different types of companies, including inspection of their products and services. AENOR certificates are very highly valued, as the organization is one of the 10 leading certification institutions in the world.
For more information, visit: http://www.aenor.es
About Lloyd´s
Lloyd´s, or Lloyd´s Register Group, is currently one of the leading audit institution in the world. The company assesses corporate processes and products under internationally recognized standards and models, including AENOR´s Quality standards.
About DocPath
DocPath is a leading document software manufacturer that provides its world-wide customers the technology that allows them to implement of sophisticated Customer Communications Management and Document Output Management processes. Created in 1992, DocPath´s solutions are found in companies all over the world. Among its international clients are prestigious banks and first class corporations, which are aided by DocPath solutions by simplifying the complicated and critical task involving the design and distribution of business and customer documents. DocPath maintains a strong commitment to R&D&i, an area that receives a good amount of its revenue, and in which lies the key to the company´s success.
For more information, visit: docpath.com
Disclaimer: DocPath and the DocPath logo are DocPath Corp. registered trademarks. All rights reserved. Other mentioned trademarks may be property of their respective owners.