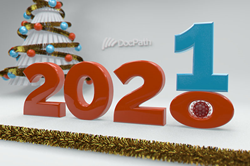 Despite the fact that the global economy is slowing down, DocPath has continued working to offer a greater variety of tools developed in the most advanced document technology
SUWANEE, Ga. (PRWEB) January 08, 2021
DocPath, a multinational company with nearly 30 years of experience in document software development, wants to express its support and strength to all families affected by this year's health crisis.
Despite the fact that the global economy is slowing down, DocPath has continued working to offer a greater variety of tools developed in the most advanced document technology.
ANNUAL REVIEW 2020
DocPath now complies with the new Payment Services of Order ECE 1263/2019, effective since July 1, 2020 thanks to the improvements applied to the DocPath® Designer v.6 design tool and its powerful DocPath® DocGeneration Engine v6 generation engine.
DocPath ZippyDocs has improved significantly. This is the perfect solution for logistic companies that are interested in improving their document processes and avoiding unnecessary delays, confusion, and errors. In addition, it allows a mayor control and the flow can be automated and computerized much more profoundly.
DocPath has dedicated this year a huge amount of time to enhance their legacy software, migration projects for Jetform and Infoprint Designer have undergone important improvements to replace Infoprint Designer in the form migration tool, converting more than 3,000 templates in only a few minutes without the need to change anything.
Finally, it is worthwhile highlighting that DocPath has started this year a partnership with the Valpatek Technology Group company, which aims to increase the distribution and implementation of the DocPath document software solutions among its customers. Valpatek constantly analyzes the different solutions and trends available on the market in order to offer their customers an even better service.
PROMISING PROJECTS FOR 2021
The most important DocPath projects for 2021 are:
DocPath Stylo has been developed to improve current document management flows and interdepartmental communication. Stylo™ offers a simple online form editing mechanism that adapts to different user profiles, changes are mainly based on manual editing of fixed texts, along with the composition of new documents by using templates and existing clauses.
This tool is extremely useful for companies that use legal documents and marketing campaigns. These departments are allowed to apply changes to templates, nevertheless, they are able to remain in full control over all changes that were made, which clause or subform has been changed and when. This is vital when it comes to business-critical documents where one single mistake can cause huge losses for the company.
DocPath Sinclair is a great tool to view and control the operation of your document generation systems. This is the perfect solution for those who are in charge of managing resources, its broad capacity to provide information makes it 'the key tool' to manage the system. DocPath Sinclair now offers the possibility to create "saved configurations" in which all configuration options can be defined. These saved configurations can be applied to the engines for both on-demand and remotely.
DocPath ActiveSpooler Enterprise has the basic functionalities to print, send emails and text messages, and save any output file (document) in external folders, delivering it to any previously defined destination. In addition, it has a web interface where users, printers, directories and in general the resources needed for proper functioning can be defined to each client individually. ActiveSpooler provides the possibility to resend messages and Emails in case of failure, without the need to repeat the whole generation process.
DocPath is committed to continuously improve its services, and offer a high level of support and continuously adapt to the latest technological advances and market trends.
For more information, visit: http://www.docpath.com/.
About DocPath
DocPath is a leading document software manufacturer that provides its worldwide customers with the technology that allows them to implement sophisticated Customer Communication and Document Output Management processes. Created in 1993, DocPath´s solutions have been implemented in companies all over the world. Among its international clients are prestigious banks and first-class corporations, which are aided by DocPath solutions by simplifying the complicated and critical tasks involving the design and distribution of business and customer documents. DocPath maintains a strong commitment to R&D&i, an area that receives a good amount of its revenue, and in which lies the key to the company´s success.
Disclaimer: DocPath is a DocPath Corp. registered trademark. All rights reserved. Other mentioned trademarks may be the property of their respective owners.