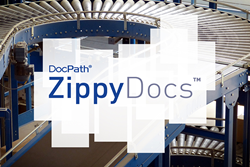 Existing DocPath ZippyDocs users are very satisfied with the results obtained with this logistic document software solution, achieving significant cost savings by streamlining processes and eliminating unnecessary delays.
SUWANEE, Ga. (PRWEB) July 07, 2020
DocPath ZippyDocs, a document software solution for logistics operators, that was launched in 2018, and recently further improved, helps logistic companies to optimize the document delivery and yields significant savings.
A set of independent software modules packed as a complete logistics document software solution.
DocPath's ZippyDocs, a cutting-edge document software solution for logistic operators, has been further improved. Customers who receive documents from multiple sources and in different formats (raw data, xml, PCL, PDF, etc.), and need to merge and present them in a single document, have now a more user-friendly interface and has reduced processing times by a 40%.
Without ZippyDocs, manual procedures are usually used to generate the documentation output in the logistic companies, with separated devices, the different documents are manually merged so they can be delivered to the truck driver as one single document.
Constant delays, mistakes and conflicts between staff members are a common issue. ZippyDocs receives all documents generated by the different applications and merges them into a set of documents that can be easily sent to the output devices of the logistic operators in about half the time,
The improved driver updates the documents, if necessary, and the end customer signs the Delivery Note upon reception of the goods. In case electronic documents are used, ZippyDocs offers the possibility to capture the customer's signature electronically and generates a final PDF that can be immediately sent to the end customer.
Eliminating these manual procedures significantly improves document manipulation, avoiding unnecessary delays, confusion and errors in distribution and logistics companies. The end result is that procedures are optimized which yields significant savings.
Once the delivery route is completed and the driver returns to the distribution center, signed documents are scanned in a self-service station and updated into the system.
Documents can be generated with a barcode on each sheet, so they can be reconstructed as complete documents, regardless of the alignment or the order in which pages were previously scanned.
Signed documents stored in a Database are immediately available to the customer, this will prevent from invoices being paid without delay, so the "excuse" that documents are lost or misplaced can no longer be used… this topic is often the cause of many disappointments for Logistics Operators.
Existing DocPath ZippyDocs users are very satisfied about the results obtained with this logistic document software solution, achieving significant cost savings by streamlining processes and eliminating unnecessary delays. They are entitled to a free upgrade and are looking forward to taking advantage of the new features and improvements.
For any further information, visit: https://www.docpath.com/logistics-and-distribution-services-document-software/
About DocPath
DocPath is a leading document software manufacturer that provides its worldwide customers with the technology that allows them to implement sophisticated Customer Communication and Document Output Management processes. Created in 1993, DocPath´s solutions have been implemented in companies all over the world. Among its international clients are prestigious banks and first-class corporations, which are aided by DocPath solutions by simplifying the complicated and critical tasks involving the design and distribution of business and customer documents. DocPath maintains a strong commitment to R&D&i, an area that receives a good amount of its revenue, and in which lies the key to the company´s success.
Disclaimer: DocPath is a DocPath Corp. registered trademark. All rights reserved. Other mentioned trademarks may be the property of their respective owners.