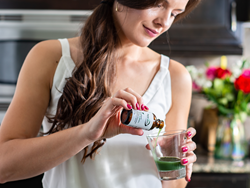 After years of careful research, development, and testing, we are proud to bring our amazing probiotic shot to market. The tremendous amount of positive feedback from our customers saying how much it has changed their lives has been truly rewarding. - Dr. Howard Robins, CMO & Co-Founder
HAUPPAUGE, N.Y. (PRWEB) December 05, 2019
Doctor's Biome Colon Health (Newgen 27, LLC) received rave reviews from both medical practitioners and retail customers, after selling out its first batch. The team of expert doctors and scientists at Doctor's Biome formulated an organic probiotic shot composed of 15 strains of probiotics, triple the amount found in a typical store-bought probiotic beverage. In 2017, Dr. Howard Robins, CMO, and Richard Finkelstein, CEO began Doctor's Biome from a shared dream of creating a probiotic "alive from inception to ingestion."
"After years of meticulous research, development, and testing, we are proud to bring our amazing probiotic shot to market. The tremendous amount of positive feedback from our customers saying how much it has changed their lives has been truly rewarding," said Dr. Robins. "Helping people achieve their health and wellness goals will always be the driving force behind Doctor's Biome."
Unlike, freeze-dried probiotics sold in capsules or powders, the probiotics in Doctor's Biome are delivered in a concentrated liquid form, which allows for faster absorption and maximum benefit. Doctor's Biome only uses patented strains that have been extensively researched. The 15 strains of probiotics or "healthy bacteria" compete against a spectrum of harmful bacteria and yeasts for space and nutrients, which helps to rebalance the gut and support healthy digestion.
Why Doctor's Biome:

27 Billion CFUs (Colony Forming Unit) of pre-hydrated, actively living probiotic bacteria in each 2-ounce bottle at the time of manufacture.
Delivered in a natural blend of organic vegetable & fruit juices (mint juice, cucumber juice, apple juice, lettuce juice, kale juice, celery juice and lemon juice).
Shelf stable for two (2) months stored at room temperature (70 °F) and may be refrigerated for up to four (4) months.
Tested by an independent, FDA-registered accredited microbiology lab for safety, ensuring the absence of pathogens in every batch.
No added sugar.
100% organic, gluten-free, non-GMO, dairy-free, and vegan.
About Doctor's Biome
Doctor's Biome is excited to offer the "Next Generation of Smart Probiotics" in a daily dose, available to purchase online. Healthcare professionals can sign up to become approved resellers and qualify for a discounted rate here.