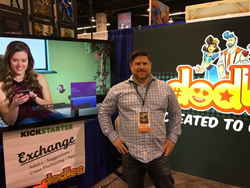 "Dodles creates a safe space for people, regardless of social skills, to collaborate with other creators, build a portfolio, and gain confidence in their ability to add value to the world," said Craig Doriot.
Appleton, WI (PRWEB) May 13, 2017
dodl.es recently announced its new "social animation app" that brings creative ideas to life quickly by simplifying digital animation and drawing. Users of its mobile app can rapidly create animated scenes using their own content or by mixing, matching and tweaking animated characters and content created by others.
"Over the past decade, social media has evolved from text-based posts, emojis, and photos to more visually engaging memes, stickers, and videos. With the addition of video overlays, photo filters, and digital drawings, social platforms are providing users with the ability to express themselves more creatively than ever before," says dodl.es president, Craig Doriot. "dodl.es signifies a gigantic leap forward in self-expression, by removing the barriers to digital drawing, animation, and collaboration over social media."
In today's fast-paced digital world, there is an increasing demand for the ability to communicate visually. Animation is at the forefront of effective communication and expression but has historically been a time-consuming and highly technical process. dodl.es has simplified this process to help users create impressive animations faster than ever.
By leveraging content that has been created by others, users can produce animated stories (or "dodles") without requiring drawing or animation skills.  The user simply searches for pre-animated characters, objects, and scenes they want to add to their dodle, and then selects licensed assets to tweak, if necessary.  Users can then quickly develop a dodle, visually directing these assets by selecting actions and even recording audio sound bites for characters to lip sync to.
dodl.es is positioning itself as an advocate for creators by offering new revenue streams for those publishing animated stories and those wanting to license scenes, objects, characters, sound effects, music, and voice acting, while also protecting their intellectual property.
The groundbreaking animation techniques within dodl.es expedite the process of creating animated messages, memes, interactive comics, stories, games and more. Its capabilities have broad appeal, from the casual hobbyist looking to create the next viral meme to the serious professional, seeking to produce interactive advertising more efficiently.
Keeping the barriers to access low is important to dodl.es, so the company has opted to generate revenue by taking a percentage of the sale of assets between creators instead of charging high software costs. 
dodl.es is engaging creators, artists, and fans through participation at popular comic cons including the recent Wondercon (Anaheim, CA), C2E2 (Chicago, IL), Wizard World Minneapolis, and the upcoming Comicpalooza (Houston, TX). The company just launched a crowdfunding campaign (http://dodl.es/kickstarter) to offer early beta access for users who are interested in prime positioning of their work on the platform.
About dodl.es
dodl.es is a social animation app that brings a simplified, yet powerful approach to illustration, animation, creative collaboration, and licensing. Founded in 2014, the mission of dodl.es is to help individuals tap into their individual and collaborative creativity. dodl.es is a welcoming social space with easy-to-use digital art and animation tools, and an open marketplace where users can sell and purchase creative content. Visit dodl.es for more information. The company is seeking support for the completion of the final product and is offering early beta access to contributors to their crowdfunding: http://dodl.es/kickstarter/