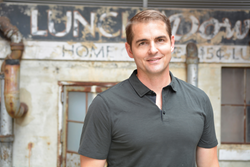 DURHAM, N.C. (PRWEB) August 29, 2018
The American Underground in Durham is continuing its commitment to supporting military, national security and veteran affairs in recognizing the establishment of a regional presence of MD5.
MD5 is a Department of Defense program office reporting through the Office of the Undersecretary of Defense, Research & Engineering, whose mission is to develop new communities of innovators that solve national security problems. MD5 collaborates with partners from the nation's major research universities and entrepreneurs and innovators from the venture community to address the real-world problems of warfighters.
The Southeast Region of MD5 will cover the Southeastern US to Louisiana and will be helmed by Tommy Sowers, MD5's Southeast Regional Director.
MD5 builds on an increased focus from the American Underground to support military and veteran affairs. In June, the AU announced Tim Horan as their first Veteran-In-Residence designed to help Veterans and service members transition from active duty to careers in growing tech companies.
QUOTES
Doug Speight, Executive Director, American Underground
"Creating unique collaborations that serve both veteran entrepreneurs and military innovators are what differentiates American Underground from other workspaces. We engage, create and act in a fashion that mirrors our community."
Tommy Sowers, Southeast Regional Director, MD5
"MD5 looks to connect the venture and academic communities to warfighters to solve national security problems. The Triangle's density of top public and private universities and the Southeast's top entrepreneurial ecosystem all within a few hours of the greatest concentration of elite Army, Marine, Air Force and Special Operations Forces, makes Durham the perfect location for our expansion. On August 31, we'll start proving out what right looks like by connecting these outstanding, elite communities to do good for our nation."
Tim Horan, Veteran-In-Residence, American Underground
"Our region boasts one of the largest populations of Active Duty Service Members and Veterans in the nation. This concentration of talent and knowledge in both the military and civilian ecosystems overlap and mutually benefit each other in ways unlike other hubs of innovation in the country. The launch of an MD5 at the AU strengthens the partnerships between entrepreneurs and the military."
Social Media
Program Hashtag: #AUVets
Facebook: facebook.com/AmericanUnderground
Instagram: @amerunderground
Twitter: @AmerUnderground
About American Underground
The American Underground -- one of ten Google for Entrepreneurs tech hubs in North America -- launched seven years ago in the basement of an old tobacco warehouse at the American Tobacco Historic District. It now encompasses over 125,000 sq ft of space in four locations in Raleigh and Durham as well as a strategic partnership with open source leader Red Hat to offer an office in Silicon Valley. Innovation partners include Google for Entrepreneurs and Lincoln Financial and founding partners include Coastal Credit Union, Duke University, and Fidelity Labs.
About MD5
MD5 is a U.S. Department of Defense program office that collaborates with partners from major research universities and the venture community to provide solutions to the real-world problems of warfighters. We operate three portfolios of programs and services: Education, Collaboration and Acceleration. Our Education Portfolio delivers programs that bring innovation methods and the tools of entrepreneurship to the Department of Defense workforce in order to improve the problem-solving capacity of warfighters. Our Collaboration Portfolio facilitates collision-events that connect warfighters with our network of academic and venture partners to prototype new concepts and novel solutions that the Department of Defense can use to address warfighter-driven innovation challenges. Our Acceleration Portfolio provides programs and services that sustain these new solutions and novel applications, supporting prototyping and testing, and facilitating the launch and growth of of dual-use ventures responsive to warfighter needs. Together, these three, independent portfolios of programs and services form an interconnected pipeline of activities and solutions that accelerate the pace of defense innovation for DoD.