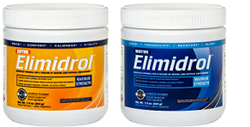 It's support you can always have by your side to help feel your best.
Dallas, TX (PRWEB) October 11, 2016
Sunrise Nutraceuticals reports an overwhelmingly positive response to the life enhancing support supplement, Elimidrol. The formula helps with intermittent anxiety, irritability, and restlessness, while promoting positive mood, comfort, calmness, and overall well-being.
"Customers have been sharing their reviews of Elimidrol on an almost daily basis, praising the supplement for its mood enhancing effects and anxiety relief support," states Brian Lenner, a Sunrise Representative, "It's very exciting to know our product is making such difference in so many lives."
Elimidrol was scientifically formulated to go beyond just a mood enhancement product. The one of a kind combination of key ingredients, herbs, amino acids, minerals, and supporting nutrients, was carefully selected and blended into a formula, creating a supplement with the power to positively impact lives, relieve anxiety, and enhance mental, emotional, and physical well-being.
"There is a bright and very useful future for these life enhancing support supplements," states Lenner. "It's very common for our minds to get carried away—to allow everyday stressors to become overwhelming and get us down. We've all felt it, and that's where Elimidrol works its magic. It's support you can always have by your side to help feel your best."
Sunrise Nutraceuticals backs the product's benefits with a Customer Satisfaction 100% Money Back Guarantee and encourages customers to continue sharing their experiences with Elimidrol. For Elimidrol reviews, testimonials and additional information, visit Elimidrol.com.
---
Sunrise Nutraceuticals is a developer and provider of innovative nutraceutical products. With the use of scientifically formulated ingredients, the company applies their expertise to the development and formulation of their pioneering supplements. The company's mission is to enable people to do more, feel better, and live enriched lives. All products are manufactured in the United States of America and to high standards of both quality and regulation: in GMP certified, NSF GMP registered, and DSHEA and FD&C Act compliant facilities.