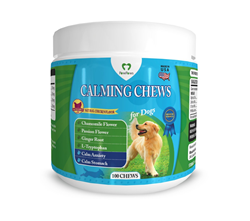 Our supplements are made in the USA with highest quality ingredients. By avoiding the use of extrusion and extreme heat and pressure, our factory is able to produce a supplement that maintains the purity of the natural active ingredients.
Cary, NC (PRWEB) June 19, 2016
Whole Health Supply, maker of the PawPaws line of pet supplements, is announcing that its Anxiety Relief/Calming Chews for Dogs is now available on line at Amazon.com. All the ingredients in the product have been used by naturopaths with huge success for generations.
While dogs may be treated like members of the family, they are not human. However, they can react to outside stressors just as their owners do. Separation anxiety can cause destruction of household goods including solid wood furniture. Sudden noises like thunder and howling winds can cause a usually calm and house-broken dog to have accidents on the carpet or good flooring. Dogs along with their owners can suffer from motion sickness in cars on short or long trips. These issues are now a thing in the past.
Humans drink chamomile tea for a calm, good night's rest. Whole Health Supply has added chamomile powder to the dog chews. Passion flower powder has been used for its calming and sedative effects and anti-spasmodic properties. This addition to the chews has had a tremendous calming effect on canines.
When children are home from school with a stomach ache the drink of choice for most mothers is ginger ale. Ginger has been used for centuries as a solution to upset stomachs. A side benefit is that it tastes just as good as it works. Another powerful sedative can be found around most homes during Thanksgiving. The big bird on the table is full of natural L-tryptophan which helps human brains produce serotonin and melatonin. This is why so many people unintentionally nap in the family room after dinner.
When put together, these all-natural ingredients make a dog calming chew that helps your best friend tolerate many of the stressors that are giving him problems. When you leave for work or to go out in the evenings, when you return your pet will be calm and ready to great you. There will be no chewed furniture. He will sleep soundly in his bed during the next thunderstorm or event with children setting off firecrackers.
PawPaws Anxiety Relief/Calming Chews for Dogs does not drug the animal. Rather, it works with the dog's own metabolism to help him remain calm and not display a flight or fight response.
Laura Manning, Media Relations at PawPaws said, "Our supplements are made in the USA with highest quality ingredients and manufacturing practice. By avoiding the use of extrusion and extreme heat and pressure, our factory is able to produce a pet supplement that maintains the purity of the natural active ingredients."
For further information visit http://www.amazon.com/dp/B01DFYLRB8