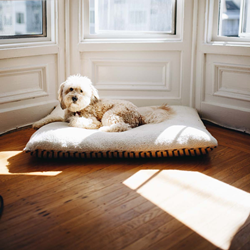 For all of these reasons and more, Petco earns our highest rating once again among retailers of Dog Beds in 2020.
OVERLAND PARK, Kan. (PRWEB) September 23, 2020
TopConsumerReviews.com recently awarded their highest five-star rating to Petco, an industry leader among stores offering Dog Beds.
Many dog owners wonder whether it's a good idea for pets to co-sleep with their owners. While up to half of all dog owners let their canine companions take up space on the mattress, experts say that can lead to a bad night's rest for everyone involved - human and animal! Whether it's time to move Rover to his own bed or just time for a refresh, buying Dog Beds online is a great option. From the traditional square pillow-style bed to ultra-glam loungers and other high-end styles that might even make owners jealous, there's no better selection than what's found through internet retailers. Even hard-to-find Dog Beds for pets with medical conditions are most easily bought online, with no need to drive from one pet supply store to another hoping to find the perfect one in stock.
"Petco is the store that has it all when it comes to Dog Beds and other supplies," affirmed Brian Dolezal of TopConsumerReviews.com, LLC. "Navigating their online shop is a breeze, with helpful filters that let you narrow down the options by category, price, brand, and many other criteria. You'll probably want to use those filters, given that Petco has more than 600 different Dog Beds to choose from. While their everyday prices are typically the lowest around, Petco extends a Price Match Guarantee against several of their most well-known online rivals. Extra perks like a 60-day return policy, Pals Rewards program, and free shipping on orders of $49+ make it even better to shop at Petco - not just for your next Dog Bed but also for any other pet supplies you may need. For all of these reasons and more, Petco earns our highest rating once again among retailers of Dog Beds in 2020."
To find out more about Petco and other online retailers of Dog Beds, including reviews and comparison rankings, please visit the Dog Beds category of TopConsumerReviews.com at https://www.topconsumerreviews.com/dog-beds/.
About Petco
With more than 50 years of service to pet parents, Petco is a leading pet specialty retailer that focuses on nurturing powerful relationships between people and pets. This is accomplished by providing the products, services, advice and experiences that keep pets physically fit, mentally alert, socially engaged and emotionally happy: Healthier Pets. Happier People. Better World. The Petco Foundation, an independent nonprofit organization, has invested more than $175 million since it was created in 1999 to help promote and improve the welfare of companion animals, working with and supporting thousands of local animal welfare groups across the country and helping find homes for more than 400,000 animals every year.
About TopConsumerReviews.com
TopConsumerReviews.com, LLC is a leading provider of reviews and rankings for thousands of consumer products and services. From dog beds to pet insurance and dog treat clubs, TopConsumerReviews.com delivers in-depth product evaluations in order to make purchasing decisions easier.