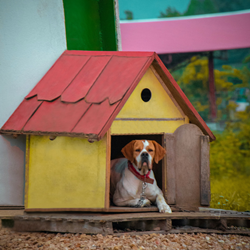 For all of these reasons and more, Wayfair is our top pick among stores offering dog houses in 2020
OVERLAND PARK, Kan. (PRWEB) November 25, 2020
TopConsumerReviews.com recently awarded another top ranking to Wayfair, a popular online retailer of Dog Houses.
While it may be hard to find a dog house like Snoopy's that can double as an airplane for a flying ace, there's no shortage of real-world options for Fido and Fifi. From basic plastic molded designs meant to give them shelter from the elements, to architect-designed luxury pet palaces that rival some of the most posh homes for people, dog houses can be fun or functional - or both! But, finding them in local home improvement stores and even specialty retailers can be a challenge: most shops don't have the floor space available to showcase many dog houses at once, requiring you to place a special order or go from store to store until you come across one that's actually in stock. Of course, smart shoppers know that the best selection of dog houses is available round-the-clock when buying online. Especially on larger styles that might be difficult to get home, buying a dog house from an internet retailer and having it delivered right to the doorstep is usually the most convenient and affordable option.
"Wayfair carries a jaw-dropping range of products for the home, and they continue to amaze us with their selection of Dog Houses," affirmed Brian Dolezal of TopConsumerReviews.com, LLC. "This retailer is one of the easiest to shop: instead of having to sift through dozens of related pet products to find what you want, Wayfair makes sure that you'll see nothing but dog houses when you shop that category page. Whatever your budget, you'll have plenty of choices - from pet tents and 'dog house ottomans' you can use indoors, to Victorian-style mansions that will give Rover his own backyard 'glamping' lifestyle. You'll also get free shipping if your dog house is priced over $49, which applies to almost all of the options sold by Wayfair. For all of these reasons and more, Wayfair is our top pick among stores offering dog houses in 2020."
To find out more about Wayfair and other retailers of Dog Houses, including reviews and comparison rankings, please visit the Dog Houses category of TopConsumerReviews at https://www.topconsumerreviews.com/dog-houses/.
About Wayfair
Wayfair believes everyone should live in a home they love. Through technology and innovation, Wayfair makes it possible for shoppers to quickly and easily find exactly what they want from a selection of more than 18 million items across home furnishings, décor, home improvement, housewares and more. Committed to delighting its customers every step of the way, Wayfair is reinventing the way people shop for their homes - from product discovery to final delivery.
About TopConsumerReviews.com
TopConsumerReviews.com, LLC is a leading provider of reviews and rankings for thousands of consumer products and services. From Dog Houses to Pet Meds and Pet Insurance, TopConsumerReviews.com delivers in-depth product evaluations in order to make purchasing decisions easier.